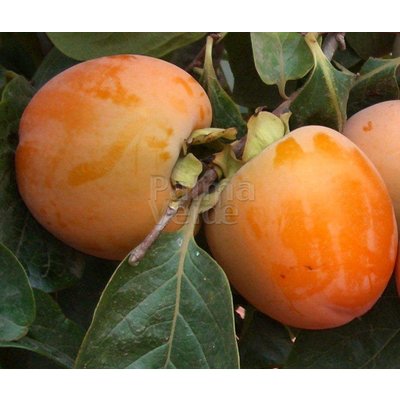 Eetbare tuin-edible garden

:

Diospyros kaki - Sharonfruit - Persimmon

DIOKAK02
Availability:

Out of stock

Shipping within:

Available spring 2020
Diospyros kaki or persimmon also known as sharon fruit is a hardy exotic fruit tree. The fruits are ripe in November ...
More information
Product description
Article number:

DIOKAK02

Availability:

Out of stock

Shipping within:

Available spring 2020
Diospyros kaki or Sharonfruit is a deliciously sweet exotic fruit that can also be grown in our climate.
The trees we supply are available in various heights and are all fruit bearing. The beautiful yellow blossom blossoms in April / May. In the autumn the leaves turn yellow / red nicely.

We supply various types that do not differ in taste, it is more the shape of the fruits that are different from each other.
The types that we often have in our range:
Diospyros kaki "Mela", Diospyros kaki "Tipo", Diospyros kaki "Vaniglia", Diospyros kaki "Cioccolatino", Diospyros kaki "Hana Fuyu", Diospyros kaki "Jiro".

The persimmom can easily withstand our winters and is hardy.
The fruits are ripe in the autumn, even a night frost over the fruit speeds up the ripening.
The more mature the fruit, the sweeter. As a rule, we harvest the fruits at the end of October in early November.
The seedless fruits contain on average 16% sugar, of which 43% glucose as a fast-acting energy source. They can be eaten with zest and all and taste deliciously sweet.

As minerals, especially potassium and phosphorus have to be mentioned.
In addition to vitamin B and 6 to 50 mg of vitamin C, this fruit contains a lot of provitamin A and even to the extent that 1 to 2 fruits can absorb the daily consumption of this vitamin in an adult.
Fruits stay well in the refrigerator for about up to 4 weeks. If you want to keep them longer, the fruits can be frozen in their entirety.
Winter hardiness zone 6b (-20ºC).
Specifications
Minimum temperature:

-20ºC

Location:

Sunny, light shade

Soil type:

No special requirements

Water requirement:

Light damp

Full ground:

Yes

Tub plant:

Yes

Flowering period:

5-6

Origin / habitat:

China, Israel, Mediterranean

Growth rate:

Normal

Maximum plant height:

3-4 meters