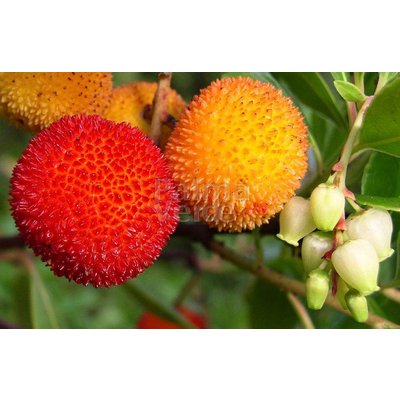 Eetbare tuin-edible garden

:

Arbutus unedo

ARBUNE03
Availability:

In stock

Shipping within:

3 to 5 business days
Arbutus unedo is an evergreen Mediterranean tree with white flowers and red edible fruits ...
More information
Product description
Article number:

ARBUNE03

Availability:

In stock

Shipping within:

3 to 5 business days
Arbutus unedo is a genus of flowering plants from the family Ericaceae (heather-like).
These grow in the Mediterranean area, but also in North America.
It is a green-lasting tree or large shrub that can reach a height of 5 to 10 meters in our climate.
The strawberry tree can also be used well to, for example, deny sight to the neighbors.

The flowers are bell-shaped and white / pink in color.
These flower clusters of about 9 cm long and 5 cm wide bloom from October to March in combination with yellow / red fruits.
These fruits resemble strawberries and are 2.5 cm tall, are edible and they taste sweet / sour, the taste resembles the berries of the currant tree (Amelanchier).

These fruits are also used in Italy in the preparation of wines and liqueurs. Jam can also be made from the fruits.
The Arbutus unedo is in bloom where other plants and trees are preparing for the winter. It is a nice addition in the garden.
This special plant is also fairly hardy.
Winter hardiness zone 8a (-12ºC).
Specifications
Minimum temperature:

-12ºC

Location:

Sunny, half shadow

Soil type:

No special requirements

Water requirement:

Normal

Full ground:

Yes, protect young plants from severe frost

Tub plant:

Yes

Flowering period:

8-10

Origin / habitat:

Mediterranean, West France, West Ireland

Growth rate:

Normal

Maximum plant height:

5-9 meters