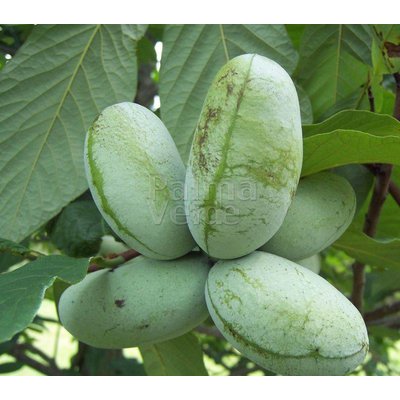 Eetbare tuin-edible garden

:

Asimina triloba - Paw paw tree

ASITRI03*
Availability:

In stock

Shipping within:

2 to 4 business days
Asimina triloba or Paw paw tree is a very hardy fruit tree that gets particularly tasty fruit ...
More information
Product description
Article number:

ASITRI03*

Availability:

In stock

Shipping within:

2 to 4 business days
Asimina triloba or Paw paw tree is a three-lobed plant and a separate fruit-bearing plant.
Also the only one in the family of the Annonaceae (Zuurzakfamilie) that is very hardy.
It is a deciduous tree or shrub in winter.
The Paw Paw grows very slowly and grows 20 cm per year on average.
The maximum height is around 6/8 meters, but the plant can be pruned at any desired height in the winter.
The Indian name Assimin became a Latin translation Asimina.

This plant was already used by the Indians for its fruit. This plant occurs in Northeast America and a part of Canada where the summers are even shorter than in our region.
Which is convenient and the fruits on this plant very well.
The plant can give fruit after the 5th year on the young wood, but as a rule from the 6th to 7th year you can expect the first fruits. The plants are then usually about 125/150 cm.
Flowering time from March to May and lasts 4-5 weeks. Flowers are dark brown and about 4-5 cm and bloom on the bare wood.
The fruits ripen off from the beginning of September to mid-October.

The species we sell is reasonably self-pollinating, the Sunflower, and gives a good amount of fruit. However, a second plant or more is necessary for considerably more fruit.
In our example garden, a 1999 copy is all alone and we had reasonable fruit every year.
However, since 2012 we have planted some more copies and the yield is considerably higher.
As far as the pollination of flowers is concerned, we do not do anything, this is mainly caused by ants and insects that end up on the sweet nectar.

The fruits have something like a potato or thick sausage.
They do not look like that, but that is why this plant is a special feature in your garden.
The fruits are deliciously sweet, they taste a bit like a banana / mango / pineapple and are 7 to 15 cm long and can weigh between 200 and 450 grams.
These fruits are also very healthy, comparable to those of the kakiboom.
Rich in vitamin C and A and the real protein bombs. The fruits can be stored in a refrigerator for 3 to 4 weeks.

The type of soil does not really matter that much for the Paw Paw, but something sour is a requirement for good growth and fruiting.
If no acid soil has no problem, you can sprinkle a layer of peat over the roots of the plant every year. The same idea what is done annually for Rhododendron and Camellia for example.
Winter hardiness zone 5b (-26ºC).
Specifications
Minimum temperature:

-26ºC

Location:

Sunny, half shadow

Soil type:

No special requirements

Water requirement:

Normal

Full ground:

Yes

Tub plant:

Yes

Flowering period:

6

Origin / habitat:

North-East America, Canada

Growth rate:

Reasonably slow

Maximum plant height:

4-5 meters