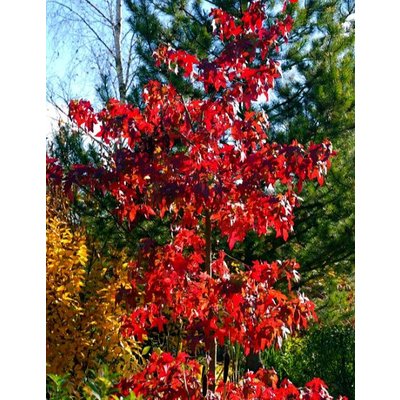 Blad-leaf

:

Parrotia persica - Persian ironwood

PARPER01
Availability:

In stock

Shipping within:

2 to 4 business days
Parrotia persica also called Persian ironwood gets small red flowers in early spring and has great discoloration in autumn ...
More information
Product description
Sorts:

Blad-leaf

Article number:

PARPER01

Availability:

In stock

Shipping within:

2 to 4 business days
Parrotia persica also called Persian ironwood is a beautiful tree that originated in Southern Russia and Northern Iran.
This tree is 10-12 meters high without pruning. Gets a wide crown and has a few nice features.
Design is sometimes multi-stemmed but also held as standard.
The green doubled leaf is up to 30 cm long. The trunk is light gray with purple / brown spots and the branches are olive brown.
The leaves are oval and green with purple-red borders and up to 10 cm.

In February/March the tree blooms on the bare wood with small red flowers.
Apart from the fact that the tree blooms beautifully in early spring, the tree is also a beautiful sight in all seasons due to its irregular growth.

In the autumn the page starts and the leaf discolors beautifully to yellow and orange and then to bright red and purple.
The Parrotia persica likes to stand in a sunny spot and can be planted on normal but dry soil. Furthermore, the tree is well wind resistant. In the winter, the Parrotia persica loses its leaves.
Winter hardiness zone 5a (-27ºC).
Specifications
Minimum temperature:

-27ºC

Location:

Sunny, half shadow

Soil type:

No special requirements

Water requirement:

Normal

Full ground:

Yes

Tub plant:

Nee

Flowering period:

2-3

Origin / habitat:

North Iran, South Russia

Growth rate:

Slow

Maximum plant height:

10-12 meter