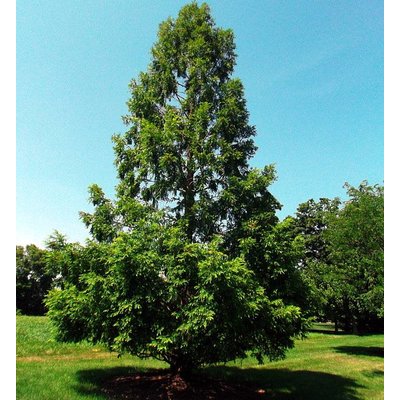 Blad-leaf

:

Metasequoia glyptostroboides - Dawn Redwood

METGLY01
Availability:

In stock

Shipping within:

3 to 5 business days
Metasequoia glyptostroboides also called Dawn Redwood, fast growing deciduous conifer, discolored yellow-orange in autumn ...
More information
Product description
Sorts:

Blad-leaf

Article number:

METGLY01

Availability:

In stock

Shipping within:

3 to 5 business days
Metasequoia glyptostroboides or Dwan Redwood is a fast growing deciduous tall conifer. This tree from South and West China grows to 25 to 35 meters high.
Until 1941, this tree was known only as a phosphate and was named Metasequoia by a Japanese researcher. Was rediscovered in 1944 in a very remote place in South China by a forester who found a number of specimens.

The growth form is pyramidal and comes into its own when planted solitary, the trunk is amazing, the bark is red / brown in color and later discolored to gray.
It is nice that the old bark is flaking with long strips.
This giant tree is beautifully fresh green from early spring to autumn. In the autumn the tree turns to orange and in the winter she loses all her leaves.

In the month of May, inconspicuous catkins appear on the tree that produce fruit later in the season. These fruits are ovoid to 2.5 cm in size and green to red / brown.
Despite the enormous height that the tree can reach, it is very wind resistant.

The Metasequoia glyptostroboides is a fast-growing tree that can be planted on normal soil but also on wet ground. The Metasequoia glyptostroboides very hardy.
Winter hardiness zone 5b (-25ºC).
Specifications
Minimum temperature:

-25ºC

Location:

Sunny, half shadow

Soil type:

No special requirements

Water requirement:

Normal to wet

Full ground:

Yes

Tub plant:

Nee

Flowering period:

n/a

Origin / habitat:

South/West China

Growth rate:

Fast

Maximum plant height:

25-35 meter