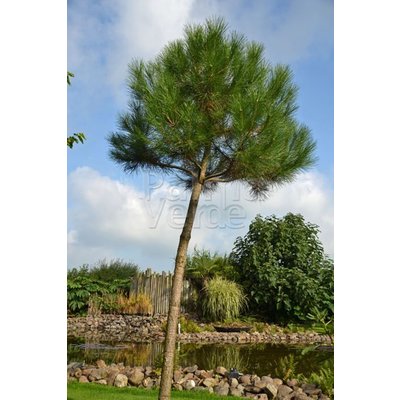 Bomen-trees

:

Pinus pinea - Pine

PINPIN02
Availability:

In stock

Shipping within:

3 to 5 business days
Pinus pinea is a pine, evergreen and hardy, growing with capricious branches and edible pine seeds ...
More information
Product description
Sorts:

Bomen-trees

Article number:

PINPIN02

Availability:

In stock

Shipping within:

3 to 5 business days
Pinus pinea or Pine. Pine trees are common in the western part of the Mediterranean countries, especially in the coastal areas.
The pine can also be well against the wind.
The Pinus pinea also grows well on poor, poor sandy soil.
The color of the tree bark is red brown / orange and the branches are light gray / green in color. The needles are up to 20 cm long and are evergreen.

The Pinus pinea is a striking appearance due to its growth. The trunk grows reasonably upright. At the top of the crown the freakish branches form in the form of a parasol.
The flowers are monoecious and both male and female flowers are on the plant. These are pollinated by the wind.

Receives a brown round cone fruit after flowering, which lasts from May to June and is shiny.
In this cone are the seeds that are edible and also known as pine nuts.
Intervention of the fruits lasts until the winter and the following year are ripe in May.
The pine nuts can be roasted or eaten.
Is widely used for making pesto and also as a garnish in, for example, salads.
The Pinus pinea is evergreen.
Winter hardiness zone 7a (-20ºC).
Specifications
Minimum temperature:

-20ºC

Location:

Sunny, light shade

Soil type:

No special requirements

Water requirement:

Normal

Full ground:

Yes

Tub plant:

Yes

Flowering period:

5-6

Origin / habitat:

Mediterranean

Growth rate:

Normal

Maximum plant height:

>10 meters