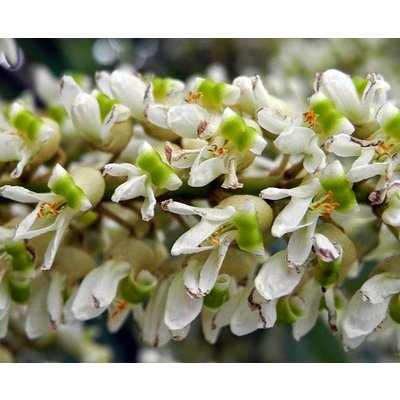 Blad-leaf

:

Maackia amurensis - Amur Maackia

MAAAMU01
Availability:

In stock

Shipping within:

3 to 5 business days
Maackia amurensis also called Amur Maackia, white flowers, young leaves silvery frosted, has a special bark, discolored yellow-orange in autumn ...
More information
Product description
Sorts:

Blad-leaf

Article number:

MAAAMU01

Availability:

In stock

Shipping within:

3 to 5 business days
Maackia amurensis also called Amur Maackia is a very special and rare tree. This plant originating from North Korea to North China and Russia (area Amur river running through East Asia and Russia) is a small tree, usually no higher than 6-8 meters without pruning, with a wide crown and a few nice features.
Design is multi-branched broadly branched but also kept as standard.
The fresh green double-gel leaf is up to 30 cm long.
The individual leaves are ovoid and up to 8 cm long and the underside is hairy and bluish-green.

When the young leaves emerge in the spring, this silver gray and the underside are hairy. It seems that the tree is completely covered with dew.
The bark is gray / brown and very grooved, the old bark is peeling off.

In July and August the Maackia amurensis blooms profusely with white flowers that are individually up to 1 cm in size and grow in large up to 15 cm upright plumes. This is an irresistible delicacy for butterflies.
After flowering, pods of up to 7 cm long appear in autumn.
These fruits change color from green to brown and contain non-toxic seeds.

In the autumn, the leaves turn to yellow and later to orange.
The Maackia amurensis can be planted on dry soil. This tree also performs well on poor and clay soil. In the winter the Amur Maackia loses its leaves. Given the origin of this tree, she is very hardy.
Winter hardiness zone 5a (-26ºC).
Specifications
Minimum temperature:

-26ºC

Location:

Sunny, half shadow

Soil type:

No special requirements

Water requirement:

Normal

Full ground:

Yes

Tub plant:

Nee

Flowering period:

7-8

Origin / habitat:

North Korea, North China, Russia

Growth rate:

Slow

Maximum plant height:

6-8 meters