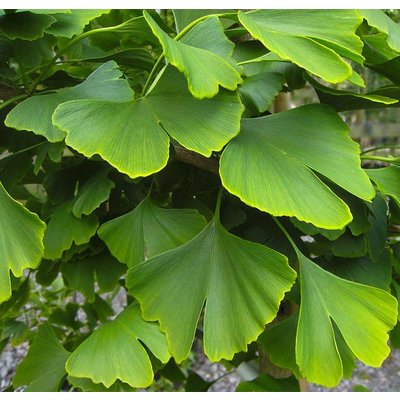 Blad-leaf

:

Ginkgo biloba

GINBIL02
Availability:

In stock

Shipping within:

1 to 3 business days
Ginkgo biloba gets beautiful fan-shaped green leaf and discolored beautiful yellow in late fall ...
More information
Product description
Sorts:

Blad-leaf

Article number:

GINBIL02

Availability:

In stock

Shipping within:

1 to 3 business days
Ginkgo biloba is a special tree and remains the only genus in the Ginkgoaceae family.
These family species are 65 million years completely extinct except the Ginkgo biloba. This tree is the oldest tree in the world that is still grown and misses no night in a Japanese garden.
This tree is also known as Japanese and Chinese temple tree. From China, this tree eventually came to Japan and was often grown and planted near temples.

The Ginkgo grows slowly, grows conically and can become more than 15 meters high after many many years. The blade is nice fan-shaped and two lobbies.
The Japanese nut tree is a symbol of hope, love, immutability, timelessness and long life.
The female specimens get seeds that are edible and a delicacy in China and Japan, despite the fact that these ripe seeds smell like rancid butter.
However, it is not possible to see the tree whether it is a female or male plant, only when the first inflorescences appear.

In autumn the leaf of the Ginkgo discolored to bright yellow. The tree stays in the leaf for a long time, but in late autumn it can lose its leaf in one day.
The dried leaf is also used to make extract to improve memory and improve blood circulation.
Pruning is best done when the tree is on the tree and only remove the branches that are in the way.

In addition, you can trim young trees into the desired shape so that there is a good foundation for a beautiful crown.
If you fertilize the tree, use only some dried cow's grains in spring.
The plants we sell are all potted and very hardy.
Winter hardness zone 6a (-22ºC).
Specifications
Minimum temperature:

-22ºC

Location:

Sunny, half shadow

Soil type:

No special requirements

Water requirement:

Normal

Full ground:

Yes

Tub plant:

Nee

Flowering period:

6-7

Origin / habitat:

China, East Asia

Growth rate:

Slow

Maximum plant height:

>12 meters