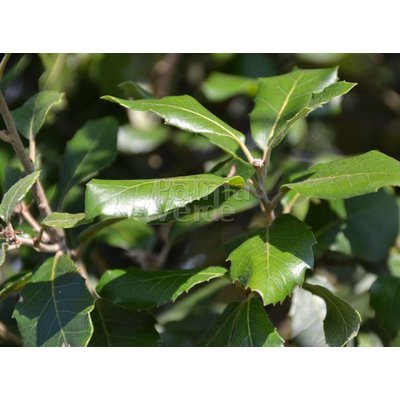 Bomen-trees

:

Quercus ilex

QUEILE02
Availability:

In stock

Shipping within:

2 to 4 business days
Quercus ilex is evergreen has small leaves on the top green under silver, grows rather slowly ...
More information
Product description
Sorts:

Bomen-trees

Article number:

QUEILE02

Availability:

In stock

Shipping within:

2 to 4 business days
Quercus ilex originates in southern Europe and in particular Mediterranean countries.
The Quercus ilex should not be missed in a garden with a Mediterranean feel. The growth is relatively slow, so this evergreen tree can also be used in smaller gardens.
The delicious whimsical growth of the holm oak is certainly a beautiful sight as it grows older.

Shaping is not a problem with the Quercus ilex, this is best done in March if necessary.
Furthermore, the holm oak does not impose any requirements on the type of soil and also tolerates salty air, so that planting in coastal areas does not cause any problems.
In the month of May the tree will bloom with yellow and green flowers.
The yellow flowers are masculine and the green feminine and in September / October the beautiful acorns come much smaller than the traditional oak. These will be about 1 to 2 cm in size.

The leaves of the tree remain smaller than those of the ordinary oak and are oval shaped and serrated.
Top of the top is gray / green in color, the underside is set with a white haze.
The leaf is about 5 by 3 cm. The holm oak is evergreen, with a mild winter, otherwise she loses her leaves in February / March. In April, however, new magazine will be published again.
Winter hardiness zone 6a (-20ºC).
Specifications
Minimum temperature:

-20ºC

Location:

Sunny, half shadow

Soil type:

No special requirements

Water requirement:

Normal

Full ground:

Yes

Tub plant:

Yes

Flowering period:

5

Origin / habitat:

Mediterranean

Growth rate:

Reasonably slow

Maximum plant height:

>15 meters