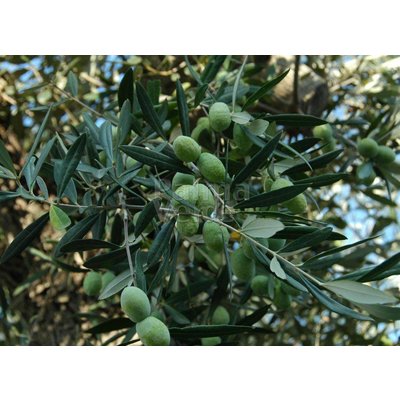 Bomen-trees

:

Olea europaea - Olive tree

OLEEUR01
Availability:

In stock

Shipping within:

3 to 5 business days
Olea europaea or olive tree has beautiful leaves, get in a good summer olive fruits and older olive trees have beautiful stems ...
More information
Product description
Sorts:

Bomen-trees

Article number:

OLEEUR01

Availability:

In stock

Shipping within:

3 to 5 business days
Olea europaea or olive tree can be kept in a pot or tub or full ground in our climate and gives a Mediterranean look on many terraces.
The olive does not lose leaves, it stays green. The whimsical stems are particularly special from older olives.
Olive trees of up to 200 years old are available, old olive trees get beautiful rough stems.

During the flowering and fruit setting extra water may be given, then the olives become pretty big.
A little cow's milk pellet every two months or special Olive focus, from April to September.
During the wintering in a tub in a cool place, the olive only needs a small amount of water once a month.
There are different types of olives and in case of severe cold a few species fall more leaves than others.

From April there will soon be new leaves and the olive will be full in leaf again in no time.
We have had an olive tree in our example garden for many years.
This is wrapped with climate cloth in the winter from the end of November / beginning of December. We will remove the winter protection again at the end of March.
If you purchase an olive tree from us, we provide you with the necessary information to guide you through the winter. We sell olive trees in various sizes.
Winter hardiness zone 8a (-10ºC).
Specifications
Minimum temperature:

-10ºC

Location:

Sunny, half shadow

Soil type:

No special requirements

Water requirement:

Light damp

Full ground:

Yes, protection against moderate frost

Tub plant:

Yes

Flowering period:

5

Origin / habitat:

Mediterranean

Growth rate:

Slow

Maximum plant height:

>9 meters