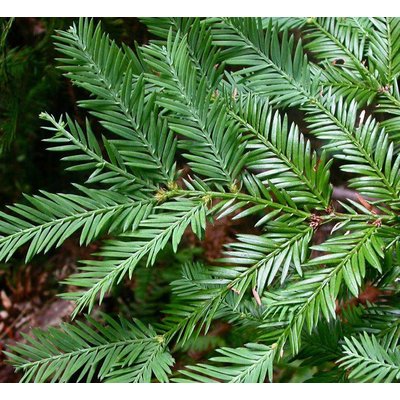 Bomen-trees

:

Sequoia sempervirens

SEQSEM01
Availability:

In stock

Shipping within:

2 to 4 business days
Sequoia sempervirens becomes huge and is one of the largest trees in the world ...
More information
Product description
Sorts:

Bomen-trees

Article number:

SEQSEM01

Availability:

In stock

Shipping within:

2 to 4 business days
Sequoia sempervirens is also called the coastal mammoth tree or coastal sequoia. This belongs to the family of the cupress and becomes gigantic.
The coastal mammoth tree originates widely in California's coastal regions. This species is the tallest tree in the world and can be over 100 meters high.
The stem circumference becomes more than 30 meters and there is average in this type of specimen against the 2000 cubic meters of wood. This also makes it the heaviest trees in the world.

This evergreen conifer is a real asset to the collector and a real eye-catcher for your garden.
On average, the Sequoia sempervirens grow at least 80/100 cm a year. In the Netherlands there are some specimens with the highest around 32 meters (anno 2013), this is in the trompenburg arboretum in Rotterdam.

In the summer, the Sequoia sempervirens can get a lot of water, which will boost growth immediately.
From spring and summer, the tree reappears with new shoots.
The Sequoia sempervirens is hardy in the Netherlands.
Winter hardness zone 6b (-20ºC).
Specifications
Minimum temperature:

-20ºC

Location:

Sunny, half shadow

Soil type:

No special requirements

Water requirement:

Normal, slightly damp to wet is no problem

Full ground:

Yes

Tub plant:

No

Flowering period:

n/a

Origin / habitat:

California

Growth rate:

Reasonably fast

Maximum plant height:

>80 meters