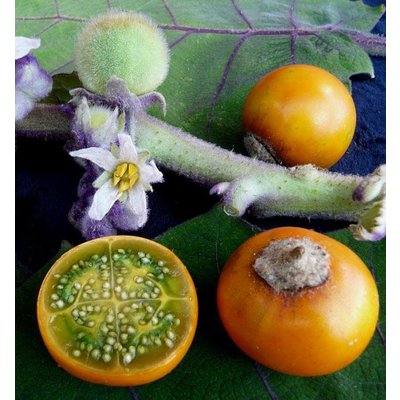 Eetbare tuin-edible garden

:

Solanum Quitoense - Naranjilla - Lulo

SOLQUI01
Availability:

Out of stock

Shipping within:

Temporarily out of stock
Solanum Quitoense is also called Naranjilla or Lulo with very exotic leaf and delicious tropical fruits ...
More information
Product description
Article number:

SOLQUI01

Availability:

Out of stock

Shipping within:

Temporarily out of stock
Solanum quitoense is also called Naranjilla in Ecuador and Peru, but in Colombia this tropical fruit is known as lulo.
This exotic grows branched and the old trunk grows. Older plants will be 250 cm high without pruning. The oval leaf is slightly hairy and grows up to 60 cm long and 45 cm wide.

All the leaves of the plant are beautiful, fresh green and have purple / violet colored nails. At the top of the toothed leaf on the leaf nerve, longer fat unhealthy points occur.
The plants bloom with violet-colored fragrant wildish flower throats. The plants are self-pollinating and produce delicious round fruits of 6 to 7 cm.
These are actually berries that are orange on the outside when they are ripe. The inside of the fruit consists of 4 compartments that are translucent green / yellow in color.

The aroma of the fruit is fresh light acid and tastes like pineapple / lime. They can be eaten, cut and cut and juicy in your mouth. The skin remains beautiful. Also as a sauce over ice cream is recommended.
The juice is deliciously refreshing, and jams are made.
This cultivation plant is likely to be sunny or half shaded in a warm shelter, which will result in the fertilization.
The Solanum Quitoense may be fertilized with Citrus focus from the beginning of May to the end of September. If the plant is too large, it can be pruned, after which it runs out quickly.
Winter hardness zone 11 (+ 6ºC).
Specifications
Minimum temperature:

+6ºC

Location:

Sunny, half shadow

Soil type:

Well permeable

Water requirement:

Light damp

Full ground:

No

Tub plant:

Yes

Flowering period:

6-9

Origin / habitat:

Colombia, Equador, Peru

Growth rate:

Fast

Maximum plant height:

150/250 cm without pruning