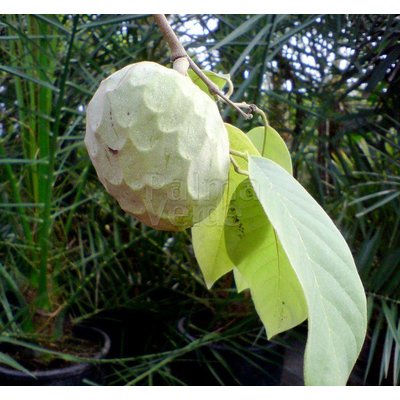 Eetbare tuin-edible garden

:

Annona cherimola - Cherimoya

ANNCHE02
Availability:

In stock

Shipping within:

2 to 4 business days
Annona cherimola or Cherimoya is a tropical fruit that tastes very sweet and gives a lot of fruit ...
More information
Product description
Article number:

ANNCHE02

Availability:

In stock

Shipping within:

2 to 4 business days
Annona cherimola or Cherimoya is a tropical plant native to South America.
He grows there in higher valleys between 1000 and 2000 meters altitude.
In Chile this cherimoya fruit is exported on a very large scale. The tree can become 4 to 7 meters high. By pruning the plant, this tropical plant can be kept well at any desired height.

The flowers grow in groups and are 3 centimeters wide, 6 petals and yellow / brown in color with purple points in the center.
The fruits are about 15 cm long and about 8/10 cm wide.

Smooth green skin and has white flesh with black seeds. It is a very sweet fruit.
This tastes deliciously fresh to a mixture of pear / mango / vanilla. You can harvest the first fruits from August / September.
Wintering in a cool light place + 5ºC or higher.
Winter hardiness zone 10b (+ 1ºC).
Specifications
Minimum temperature:

+1ºC

Location:

Sunny

Soil type:

No special requirements

Water requirement:

Light damp

Full ground:

No

Tub plant:

Yes

Flowering period:

6

Origin / habitat:

Peru, Ecuador, Colombia, Bolivia, Chile

Growth rate:

Normal

Maximum plant height:

4-7 meters