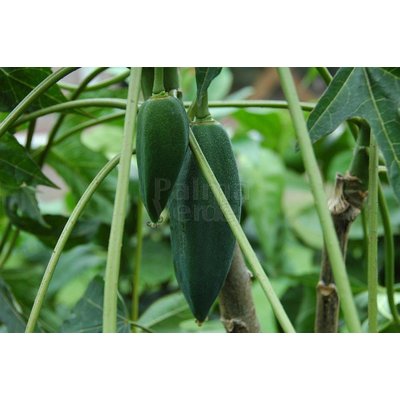 Eetbare tuin-edible garden

:

Carica pentagona - Vasconcellea x heilbornii - Babaco papaya

CARPEN01
Availability:

In stock

Shipping within:

2 to 4 business days
Carica pentagona or Vasconcellea x heilbornii and known as babaco papaya, a tasty tropical fruit ...
More information
Product description
Article number:

CARPEN01

Availability:

In stock

Shipping within:

2 to 4 business days
Carica pentagona or Vasconcellea x heilbornii, also known as Babaco papaya is a fairly fast growing small tree. The papaya is also called the boomerum.
The leaf of the Papaya is incised hand-shaped and fresh green in color.
The plant is quite spectacular and an easy container plant.

The Carica pentagona gets large fruits up to 30 cm long fruits that are very edible, the sweet / sour flesh tastes like lemon / melon.
The fruits turn yellow / green when they are ripe and contain a lot of vitamins A and C.
The fruits can easily break down in our summers. Fruits are normally ripe in August / September. The plant is losing leaf.

The Carica pentagona gets small creamy white flowers in the spring.
The plant grows to 4 to 6 meters in the open ground. This height is not achieved in a cockpit.
If the babaco papaya becomes too large, simply cut the stem at the desired height.
Just under the pruning wound the babaco papaya will sprout again, so you can keep the plant at the desired height.

Furthermore, the plant overwintering in a not too dark place at a temperature between + 5º / + 10ºC is ideal.
Winter hardiness zone 10b (+ 2ºC).
Specifications
Minimum temperature:

+2ºC

Location:

Sunny, light shade

Soil type:

No special requirements

Water requirement:

Light damp

Full ground:

No

Tub plant:

Yes

Flowering period:

5-9

Origin / habitat:

South America, Mexico

Growth rate:

Normal

Maximum plant height:

2-3 meters