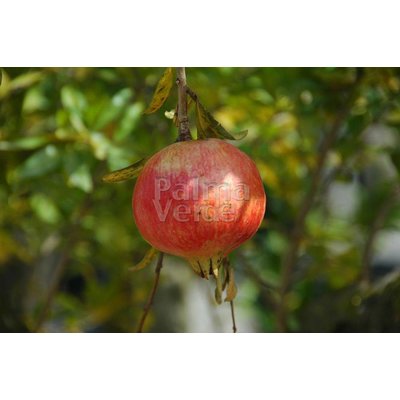 Eetbare tuin-edible garden

:

Punica granatum - Pomegranate

PUNGRA02*
Availability:

In stock

Shipping within:

2 to 4 business days
Punica granatum or pomegranate, the very exuberant and red / orange flowers are special, after the flowering pomegranates appear ...
More information
Product description
Article number:

PUNGRA02*

Availability:

In stock

Shipping within:

2 to 4 business days
Punica granatum or pomegranate occurs throughout the Mediterranean.
There the shrub grows to more than 5 meters high, with us it is not much higher than 250/300 cm without pruning.
Originally also occurs at an altitude of 2700 meters in the Himalayas and South-East Asia.

Old pomegranate trees have a very nice erratic stem.
The pomegranate is a sweet / sour tasting fruit and full of vitamins. When a ripe fruit falls on the ground, the seeds jump in all directions, hence the name pomegranate.
In our climate he does need a very good summer to ripen, but it is certainly not excluded.

Also, the flowering of the Punica granatum can not be skipped.
Beautiful bright red flowers decorate the bush and the exuberant bloom lasts throughout the summer. After flowering, red round fruits will take its place.
We have regular varieties such as the Punica granatum Wonderful etc.
Allow regular light fertilization in the spring to autumn.
During the wintering in a tub, do not give too much water (once a month) and no fertilizer. In the open ground in a sheltered spot on the south and in moderate frost protect the plant.
Winter hardiness zone 8b (-10ºC).
Specifications
Minimum temperature:

-10ºC

Location:

Sunny, light shade

Soil type:

No special requirements

Water requirement:

Light damp

Full ground:

Yes, protection against moderate frost

Tub plant:

Yes

Flowering period:

6-9

Origin / habitat:

Mediterranean, South-East Asia

Growth rate:

Reasonably slow

Maximum plant height:

2-3 meters