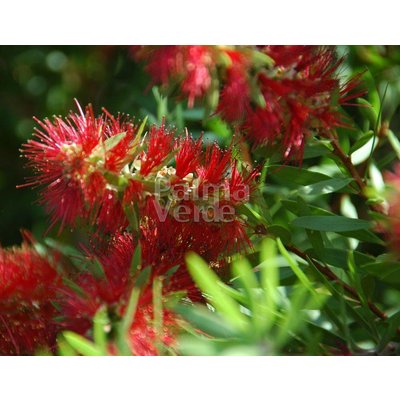 Bloemen-flowers

:

Callistemon citrinus Splendens

CALCISP02
Availability:

In stock

Shipping within:

1 to 3 business days
Callistemon citrinus Splendens is a very exuberant bloomer with bright red brush-shaped flowers ...
More information
Product description
Sorts:

Bloemen-flowers

Article number:

CALCISP02

Availability:

In stock

Shipping within:

1 to 3 business days
Callistemon citrinus Splendens originates from the South East of Australia at the beginning of the mountains.
The plant is also called Callistemon and is a very beautiful bloomer. It blooms from April to the end of August.
We have different types of stock such as Callistemon Captain Cook, Callistemon Laevis, Callistemon Citrinus splendens etc.

In the winter the leaves remain green. The leaf of this plant is harder and less hairy than, for example, that of the Callistemon Captain cook.
This species has bright red flowers in the form of a brush.

The Callistemon Citrinus splendens is suitable as a tub plant, although it tolerates slightly more cold than other Callistemon species, it is not a good idea to plant it in the ground without good winter protection.
You can then better choose to protect the plant with climate cloth and possibly to heat it from light frost.

Shape pruning can be applied by cutting back the new wood with a ½ length.
The bush is not much higher than 100/175 cm. Is also fine to prune to keep him on a certain size.
Winter hardiness zone 9b (-4ºC).
Specifications
Minimum temperature:

-4ºC

Location:

Sunny, half shadow

Soil type:

No special requirements

Water requirement:

Light damp

Full ground:

No

Tub plant:

Yes

Flowering period:

5-8

Origin / habitat:

Southeastern Australia

Growth rate:

Normal

Maximum plant height:

200/250 cm