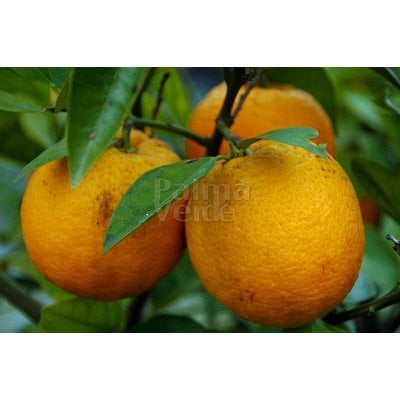 Eetbare tuin-edible garden

:

Citrus sinensis - Orange tree

CITSIN01
Availability:

In stock

Shipping within:

2 to 4 business days
Citrus sinensis or orange tree is a versatile tub plant, delicious citrus blossom and tasty oranges ...
More information
Product description
Article number:

CITSIN01

Availability:

In stock

Shipping within:

2 to 4 business days
Citrus sinensis or Orange tree has the same care as all other citruses.
This orange tree blossom smells wonderful from the spring and during the summer months and is an asset to any terrace or conservatory.

Is an easy tree that just like all other citrus trees only requires a light pruning to keep the luxuriant growth in check. Pruning is best done in late September or early October.
On the new shoots you will get plenty of fragrant blossom and fruits again next season.

In a conservatory a citrus flowers almost the whole year, alternating with fruit set.
Water the citrus plant regularly and feed it weekly from the spring to the end of the summer.
This can be done with a slow-release fertilizer that is especially intended for Mediterranean plants such as Fertilizzante Mediterraneo or liquid Citrus Focus. This is available in the webshop.
Winter hardiness zone 10b (+ 2ºC).
Specifications
Minimum temperature:

+2ºC

Location:

Sunny, half shadow

Soil type:

No special requirements

Water requirement:

Light damp

Full ground:

No

Tub plant:

Yes

Flowering period:

4-9

Origin / habitat:

Mediterranean, China, India

Growth rate:

Reasonably slow

Maximum plant height:

2-4 meters