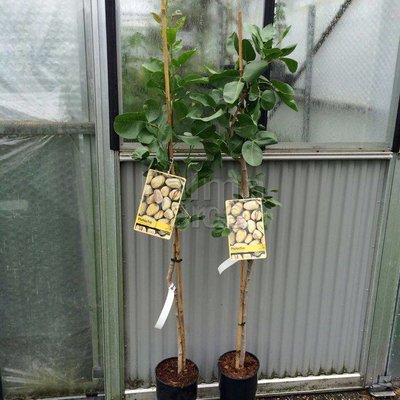 Bomen-trees

:

Pistacia vera - Pistachio tree

PISVER01
Availability:

Out of stock

Shipping within:

Available spring 2020
Pistachio vera or pistachio is the only plant for getting real pistachios ...
More information
Product description
Sorts:

Bomen-trees

Article number:

PISVER01

Availability:

Out of stock

Shipping within:

Available spring 2020
Pistacia vera or pistachio is a leaf-declining slow-growing tree that can grow up to 9 meters without pruning.
This delicious edible pistachio originates from the north east of Iran and history teaches that more than 3000 years ago it was already cultivated for its nuts.
The Pistacia vera is not self-pollinating and you need at least one male and one or more female plants for the pistachios.
The pistachios grow only to the female plants.

The gray / green leaf is hemispherical and egg-shaped. In winter the pistachio loses all its leaves. In the summer the oval red / green fruits appear when ripe then split them open.
The Pistacia vera likes to be in full sun, the warmer the better.
The plants we sell are grafted. The winter hardness of mature plants should have zone 7b, however, zone 8a is the limit for safety.
Winter hardness zone 8a (-12ºC).
Specifications
Minimum temperature:

-12ºC

Location:

Sunny

Soil type:

No special requirements

Water requirement:

Normal

Full ground:

Protection in case of moderate frost

Tub plant:

Yes

Flowering period:

n/a

Origin / habitat:

Iran

Growth rate:

Slow

Maximum plant height:

7-9 meters without pruning