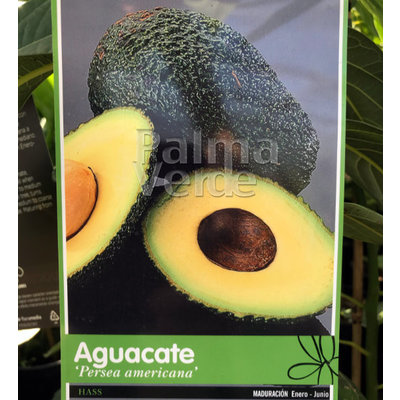 Eetbare tuin-edible garden

:

Persea americana - Avocado plant

PERAME01
Availability:

Out of stock

Shipping within:

Available spring 2020
Persea americana or avocado plant is an easy container that is good to fruit setting, delicious avocado fruits in salads ...
More information
Product description
Article number:

PERAME01

Availability:

Out of stock

Shipping within:

Available spring 2020
Persea americana or avocado is an evergreen tree that can grow up to 15 meters high. However, the tree can also be kept small by pruning.
Persea Americana likes to get its water regularly and needs little but regular nutrition during the summer months.
The avocado plant has few hair roots and is therefore not able to get its moisture from a too dry soil. Also make sure that it is not too wet, regular watering is fine.

In itself the avocado is not a separate tree and the bloom is also not spectacular. The inflorescence are clusters of yellow / green flowers that are about 1 cm in size.
These flowers smell strong. Only a small part of a large amount of flowers actually results in fruiting.
The elongated leaves of about 10 to 25 cm long still want to lose weight all year round. If above + 8ºC or higher than avocado plants are evergreen.
The Persea americana is self-pollinating.

What makes him a sought after exotic. They are the fruits that have a good impact on our climate.
The avocado is a very healthy fruit that is full of vitamins and minerals such as iron.
There is also a lot of oil in the fruit, between 5 and 20 grams per 100 flesh. These are unsaturated fats that are good for your cholesterol level.
The flesh of the avocado is very soft and has a nutty taste.
The pear-shaped fruit has an uneven skin and can be up to 30 cm long.
Guacamole is also made by the Mexicans.
You might know it as a side dish in the Mexican restaurant, a pasta of avocado, pepper, lemon, onion, chili served cold at the tortilla.
Furthermore, there are many possibilities with the avocado as a basis. The avocado is not hardy and the best is to winter over the freezing point.
Winter hardiness zone 11 (+ 4ºC).
Specifications
Minimum temperature:

+4ºC

Location:

Sunny, light shade

Soil type:

No special requirements

Water requirement:

Light damp

Full ground:

No

Tub plant:

Yes

Flowering period:

6

Origin / habitat:

Mexico

Growth rate:

Reasonably fast

Maximum plant height:

2-9 meters