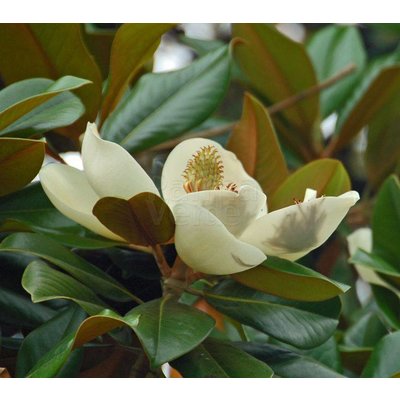 Bloemen-flowers

:

Magnolia grandiflora

MAGGRA02
Availability:

In stock

Shipping within:

3 to 5 business days
Magnolia grandiflora is a great winter hardy Mediterranean magnolia, blossoms beautiful and is winter green ...
More information
Product description
Sorts:

Bloemen-flowers

Article number:

MAGGRA02

Availability:

In stock

Shipping within:

3 to 5 business days
Magnolia grandiflora is a true Mediterranean tree and is winter green, but it can grow to a height of 20 meters after many years.
This is also called the Tulip Tree or Beverboom.
It is a very winter hard tree that has no trouble with our winters.

The large flowers are spectacular and appear in summer, they are white in color and are upright and can grow up to 25 cm.
The top is dark green with a shiny layer.
The Magnolia grandiflora prefers light acidic soil, but it also works well on normal soil.
During the hot summer months, the Magnolia may have a lot of water.
Pruning is not necessary, but if necessary then just after the first bloom.
Winter hardness zone 6a (-21ºC).
Specifications
Minimum temperature:

-21ºC

Location:

Sunny, half shadow

Soil type:

No special requirements

Water requirement:

Normal

Full ground:

Yes

Tub plant:

Yes

Flowering period:

6-7

Origin / habitat:

Mediterranean, South-East China

Growth rate:

Normal

Maximum plant height:

10 meters