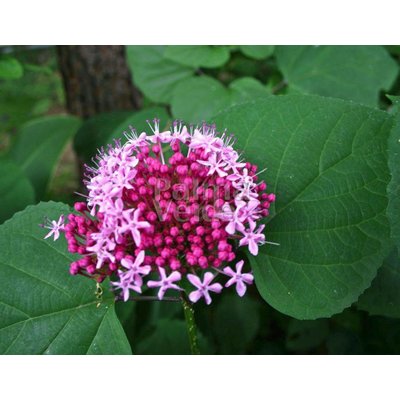 Bloemen-flowers

:

Clerodendrum bungei - Peanut butter plant

CLEBUN01
Availability:

In stock

Shipping within:

3 to 5 business days
Clerodendrum bungei or peanut butter plant has dark green leaves which smell like peanut butter, blooms great from August ...
More information
Product description
Sorts:

Bloemen-flowers

Article number:

CLEBUN01

Availability:

In stock

Shipping within:

3 to 5 business days
Clerodendrum bungei is also called the Peanut butter bush or Peanut butter plant.
This name owes the plant to the fact that the leaf after spreading a peanut butter scent.
In a mild winter in a sheltered place the bush remains intact and the plant can grow to a maximum height of 200 cm after a few years.

In a severe winter the plant dies and comes back from the roots in the spring. The height of the plant then becomes a maximum of 100/125 cm every year.
The leaves are green in color and the young stems are in the first instance dark in color and later also green. The leaf is relatively large and fresh green in color.
The flowering of this perennial plant starts end July to the end of September and is a nice surprise in your garden because most shrubs have already blossomed by then. Flowering continues until the fall.

The flowers of the Clerodendrum bungei are pink / red in color and star-shaped, they form clusters in the form of a bulb and smells delicious.
The Peanut butter plant does not make separate demands on the type of soil, likes to have a humus-rich base in the planting hole. In the summer when drought like to give extra water.
Winter hardiness zone 7a (-18ºC).
Specifications
Minimum temperature:

-18ºC

Location:

Sunny, half shadow

Soil type:

No special requirements

Water requirement:

Normal

Full ground:

Yes

Tub plant:

Yes

Flowering period:

8-10

Origin / habitat:

China, Himalayas

Growth rate:

Reasonably fast

Maximum plant height:

100/200 cm