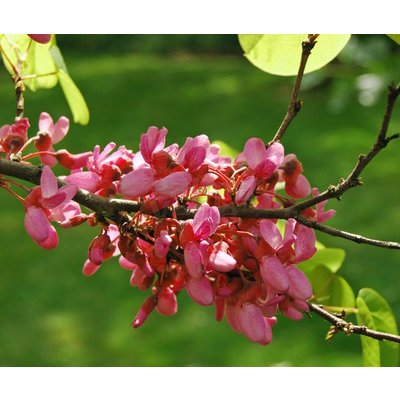 Bloemen-flowers

:

Cercis siliquastrum - Judas tree

CERSIL01*
Availability:

In stock

Shipping within:

2 to 4 business days
Cercis siliquastrum or judas tree is a true Mediterranean tree that blooms in April-May before the leaf appears ...
More information
Product description
Sorts:

Bloemen-flowers

Article number:

CERSIL01*

Availability:

In stock

Shipping within:

2 to 4 business days
Cercis siliquastrum is also called the Judas tree. This originates from the eastern Mediterranean area.
The name Judasboom has to do with Judas, who would have betrayed Jesus and hanged himself out of despair in this tree.
This beautiful tree has a very special inflorescence on the bare biennial wood. The special pink flower clusters grow numerous directly on the wood.
The flowers can be eaten or used in salads.

The flowering starts mid April and the purple / pink flowers grow in clusters on the branches and trunk.
The stem and branches of the Judas tree are dark brown to black, giving a nice contrast to the flowers. Red / brown pods appear after flowering.
After the flowering is over, the fresh green kidney-shaped leaves will appear at the end of May.

Eventually, the tree can be more than 5 meters high, but grows rather slowly. Can also be kept to the desired size by pruning.
The plant likes to have water on time if planted in a very dry place.
The Cercis siliquastrum gives, depending on the previous summer (warm summer), the following year more flowers. The warmer the summer, the more flowers the next spring!
Pruning is best done in the summer and then removing the branches that grow too close together.
Winter hardiness zone 6b (-20ºC).
Specifications
Minimum temperature:

-20ºC

Location:

Sunny, half shadow

Soil type:

No special requirements

Water requirement:

Normal

Full ground:

Yes

Tub plant:

Yes

Flowering period:

4-5

Origin / habitat:

Mediterranean

Growth rate:

Slow

Maximum plant height:

4-5 meters