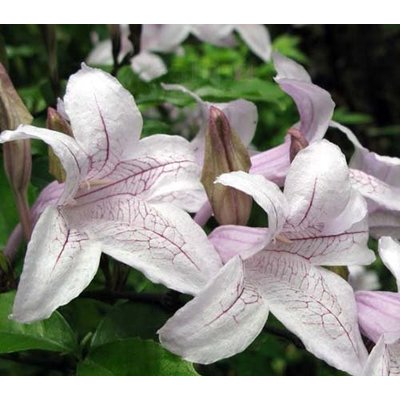 Bloemen-flowers

:

Mackaya bella

MACBEL01
Availability:

In stock

Shipping within:

1 to 3 business days
Mackaya bella has beautiful dark green leafs and amazing tropical flowers in spring and summer ...
More information
Product description
Sorts:

Bloemen-flowers

Article number:

MACBEL01

Availability:

In stock

Shipping within:

1 to 3 business days
Mackaya bella is a small bush-shaped plant with beautiful dark green shiny leaf. Of the genus Mackay there is only one species and that is the bella.
Bella means beautiful and it is this plant when he blooms with large bell-shaped flowers.
The flowers are broken white and have pink / purple contrasting lines. The flowers bloom rich in clusters at the ends of the branches. The flowering begins in spring and continues until summer.

The origin of this plant is South Africa, where this evergreen shrub grows along edges of streams and undergrowth in forests.
Mackaya bella is nowhere else in the world, only in South Africa.
A place in the light to half shade is well tolerated. In summer, the plant has some extra water. During wintertime in a cool place you can keep the soil slightly moist.

The bush gets up to 100 to 150 cm in a tub but can be kept smaller by pruning in autumn.
By pruning you keep the bush well full. If the plant grows frost damage, you can prune the pruned branches after winter. After that, the Mackaya bella reappears.
Winter hardness zone 9b (-3ºC).
Specifications
Minimum temperature:

-3ºC

Location:

Light shade, half shade

Soil type:

No special requirements

Water requirement:

Light damp

Full ground:

No

Tub plant:

Yes

Flowering period:

5-7

Origin / habitat:

South Africa

Growth rate:

Normal

Maximum plant height:

100/150 cm without pruning