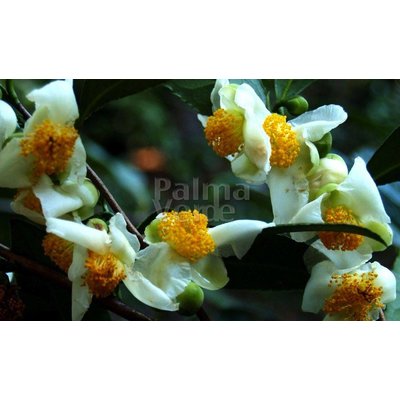 Eetbare tuin-edible garden

:

Camellia sinensis - Tea plant - Green tea - Oolong

CAMSIN02
Availability:

In stock

Shipping within:

3 to 5 business days
Camellia sinensis or Chinese green tea plant, flowers in the spring and delicious green tea can be drawn from the leaves ...
More information
Product description
Article number:

CAMSIN02

Availability:

In stock

Shipping within:

3 to 5 business days
Camellia sinensis or tea plant originates from South-East Asia and China where people make this plant, the Theaceae, Chinese green tea and oolong tea.
He belongs to the family of the Theaceae and is also called Thea sinensis.
Green tea, white tea and oolong tea are made from the Camellia sinensis. For every tea type there is another process of processing the sheet.

As an exotic in your garden, it is a rarity, this tea plant is not a common plant in the sale.
The buds and the first two to three young leaves are normally harvested for tea production.
This is then repeated every 2 months. You can also do this and make your own tea.

This shrub or small tree can reach a height of 4 meters, but by pruning it it remains compact and does not exceed 150 cm.
The flowers are yellow / white in color and have a diameter of about 2.5 to 4 cm and have 8 petals. It blooms from March to May.
It is an evergreen plant that is reasonably hardy and can be placed in the ground in our climate if desired.
Winter hardiness zone 8a (-12ºC).
Specifications
Minimum temperature:

-12ºC

Location:

Sunny, half shadow

Soil type:

No special requirements

Water requirement:

Light damp

Full ground:

Yes, protection in case of severe frost

Tub plant:

Yes

Flowering period:

4-5

Origin / habitat:

South-East Asia, China

Growth rate:

Slow

Maximum plant height:

2-3 meters