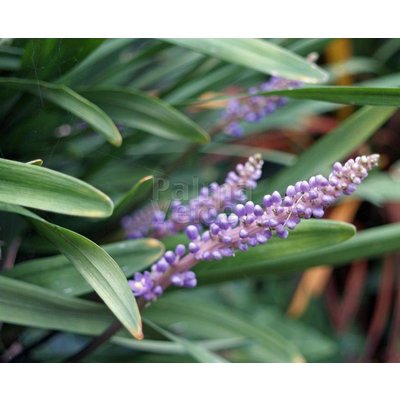 Bloemen-flowers

:

Liriope muscari Big Blue

LIRMUBI01
Availability:

In stock

Shipping within:

2 to 4 business days
Liriope muscari Big Blue is an evergreen plant that flowers with pars / lilac flowers in late summer ...
More information
Product description
Sorts:

Bloemen-flowers

Article number:

LIRMUBI01

Availability:

In stock

Shipping within:

2 to 4 business days
Liriope muscari Big Blue is a perennial that is wintergreen. We divide this type of lilies into ornamental grass because of its beautiful leaves.
This is around 25/30 cm high and the leaves are fresh green in color and have some of the Ophiopogon species.
Liriope grows larger but, like the Ophiopogon species, it is applicable in planting and solitary or edge planting.
Especially in a rock garden, Japanese garden or border, this ornamental grass is a success. The Liriope and Ophiopogon species can also be used well as a tub plant.

The flowering of the Liriope is really above the plant and immediately catches the eye. This lily variety has a lilac / purple inflorescence that resemble the Grape (Muscari) somewhat.
Somewhat later in the summer, the flowers emerge from August and the Liriope muscari blossoms Big Blue until October.
In combination with the fine dark green leaves and the showy bloom, this makes a special plant.

By the autumn, the faded flowers make way for black currants that often remain in the plant during the winter.
If you use the plant as an undergrowth or soil cover, you will initially need 6-8 plants per m².
After a few years it will be a dense green blanket where weeds will have absolutely no chance and you will have more time to enjoy your garden.
Planting in the open ground in permeable soil is fine but no problem, lily grass grows up in all places.
Half shadow to a shady spot is no problem for growth and flowering.
Hence, it is easy to use as a plant under planting.

Lily grass needs very little maintenance, you may sprinkle some cow's milk from April / May, otherwise you do not have to do anything.
Liriope tolerates heat and drought as well as moist shady conditions. However, the plant prefers a place in semi-shade in slightly moist humours permeable soil, in such a place it will expand rapidly.
The winter hardiness is very good and certainly not a problem in our climate.
Winter hardiness zone 6a (-23ºC).
Specifications
Minimum temperature:

-23ºC

Location:

Sunny, half shade, shadow

Soil type:

No special requirements

Water requirement:

Light damp

Full ground:

Yes

Tub plant:

Yes

Flowering period:

8-9

Origin / habitat:

East Asia

Growth rate:

Normal

Maximum plant height:

30 cm