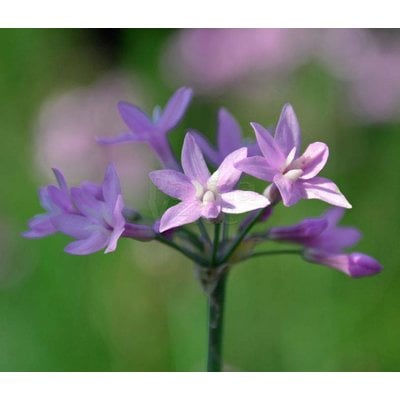 Bloemen-flowers

:

Tulbaghia violacea - Wild garlic

TULVIO02
Availability:

In stock

Shipping within:

2 to 4 business days
Tulbaghia violacea or wild garlic is a flowering border plant but can also be used as a marsh plant ...
More information
Product description
Sorts:

Bloemen-flowers

Article number:

TULVIO02

Availability:

In stock

Shipping within:

2 to 4 business days
Tulbaghia violacea occurs in South Africa, Transvaal and the Eastern Cape. This polating plant does not exceed 50 cm. The leaves are gray / green in color. Also called Wild garlic.
The Tulbaghia violacea is an excellent ground cover, but also solitary this plant stands out immediately.
This plant can also be used as a marsh plant in your pond, in a wet place the Tulbaghia violacea also performs very well.
The flower stems get multiple lilac-colored flowers that bloom throughout the summer. Except that he is beautiful and smells different, there is another special feature.
Culinary laid out?
The stems and leaves of the plant are edible and taste like garlic and are reasonably spicy.
Also the flowers of the Tulbaghia are also edible and have a slightly softer taste than the stems and the leaves. As dressing for a salad or piece of meat, this is a tasty idea.
This species is hardy and can be planted in the ground, but can also be kept in a tub on a balcony. Dies completely in the winter and comes back in the spring.
Winter hardness zone 7b (-15 / -17ºC).
Specifications
Minimum temperature:

-15/-17ºC

Location:

Sunny, half shadow

Soil type:

No special requirements

Water requirement:

Normal, wet

Full ground:

Yes

Tub plant:

Yes

Flowering period:

6-9

Origin / habitat:

Southeastern Australia

Growth rate:

Normal

Maximum plant height:

50 cm