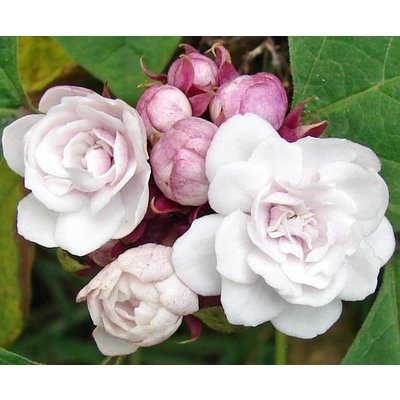 Bloemen-flowers

:

Clerodendrum philippinum - Peanut Butterplant

CLEPHI03
Availability:

In stock

Shipping within:

3 to 5 business days
Clerodendrum philippinum or peanut plant has a fresh green leaf that smells of peanut butter and deliciously fragrant flowers from July ...
More information
Product description
Sorts:

Bloemen-flowers

Article number:

CLEPHI03

Availability:

In stock

Shipping within:

3 to 5 business days
Clerodendrum philippinum or Clerodendrum fragans is also called Peanut Buttercup or Peanut Butterplant. Is also known as Clerodendrum chinense.
This name has the plant due to the fact that the leaf spreads after peeling a peanut butter scent.
In a mild winter in a sheltered place, the bush stays intact and can grow after a few years to a maximum of 150 cm. In a severe winter, the plant dies and comes back from the roots in spring.
The height of the plant will then be at most 100/125 cm each year.

The leaf is green in color and the young stems are fresh green in color. The leaf is relatively large and fresh green in color.
The flowering of this solid plant begins in June to the end of September and is a beautiful surprise in your garden because most of the shrubs have already flowed out. Bloom continues until autumn.
The Clerodendrum philippinum flowers are mainly white in color with a beautiful pink haze. The flowers resemble roses, they make clusters in the shape of a sphere and scents delicious.
Especially in the evening they smell even stronger.

Of all Clerodendrum species, the bloom of this species smells the strongest and is not called Clerodendrum fragans for nothing. Is also great for keeping a tub plant, in winter frost freezing is sufficient enough so that the pot does not freeze.
Winter hardness zone 8a (-12ºC).
Specifications
Minimum temperature:

-12ºC

Location:

Sunny, half shadow

Soil type:

No special requirements

Water requirement:

Normal

Full ground:

Yes

Tub plant:

Yes

Flowering period:

6-9

Origin / habitat:

China, Japan

Growth rate:

Reasonably fast

Maximum plant height:

100/150 cm