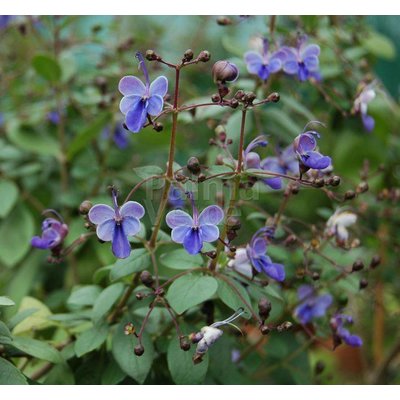 Bloemen-flowers

:

Clerodendrum ugandense

CLEUGA02
Availability:

In stock

Shipping within:

4 to 6 business days
Clerodendrum ugandense flowers very exuberant from late April to October with blue flowers ...
More information
Product description
Sorts:

Bloemen-flowers

Article number:

CLEUGA02

Availability:

In stock

Shipping within:

4 to 6 business days
Clerodendrum ugandense is for those who love blue flowers. From April until far into September, you will be pampered with the wonderfully smelling blue splendor of this tub plant. The flowers also attract many types of butterflies.
The plant originates from the tropics in Zimbabwe and Uganda.
It is not hardy and the minimum temperature is around freezing.
Overwintering at a temperature of + 4ºC is fine.

It is an easy container plant and a very rewarding bloomer.
If the plant grows too large, it is best to prune it back at the end of October, from the spring the plant will start again with fresh new shoots.
He may receive more water from March and the administration of (liquid) manure may begin.
From April the flowers come and flowers until October.
Partly due to the abundance of green on the plant and the flowering every week a small amount of manure. The soil may remain slightly damp in the summer, especially when it is warm the plant will evaporate a lot.
Winter hardiness zone 10a (+ 1ºC).
Specifications
Minimum temperature:

+1ºC

Location:

Sunny, half shadow

Soil type:

No special requirements

Water requirement:

Light damp

Full ground:

No

Tub plant:

Yes

Flowering period:

4-10

Origin / habitat:

Uganda, Zimbabwe

Growth rate:

Normal

Maximum plant height:

100/200 cm