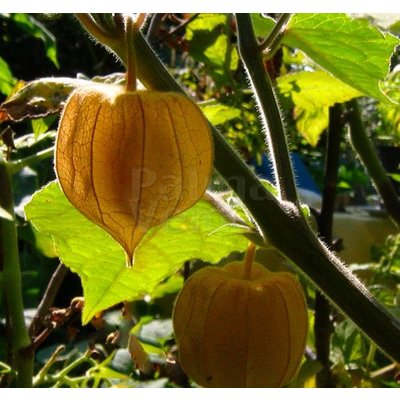 Eetbare tuin-edible garden

:

Physalis peruviana - Goldberry

PHYPER02*
Availability:

In stock

Shipping within:

2 to 4 business days
Physalis peruviana also known as goldberry or pineapple cherry, very tasteful small yellow berries that grow in a kind of lantern ...
More information
Product description
Article number:

PHYPER02*

Availability:

In stock

Shipping within:

2 to 4 business days
Physalis peruviana is also called Pineapple cherry, Cape gooseberry or Goldberry. Originally this plant occurs in the Andes mountains.
This plant grows up to 150/200 cm high and is broadly branched. In May / June the yellow flowers appear that are self-pollinating.
After this, the golden berry continues to give fruit until the autumn.

The fruits are orange in color and about 1 to 2 cm in diameter. The fruits are surrounded by a light brown chalice. These calyxes ensure that the fruit has protection against insects, etc. This calyx can not be eaten.
From June / July ripen the fruits, these taste slightly aromatic sweet to sweet acid, the taste resembles sweet gooseberries.
These fruits can be eaten in this way, are very tasty, but they can also make jam, compote.

Plucked fruit can be stored for several months. The fruits are full of vitamin A.
The Physalis peruviana likes a slightly damp soil and in the summer watering in time promotes growth. Grows in all soil types.
The seeds from the fruit can be dried and sown under glass in March, similar to the tomato plant.
The plant dies completely in the winter. In April / May it will come back on again.
Winter hardiness zone 11 (+ 6ºC).
Specifications
Minimum temperature:

+6ºC

Location:

Sunny, light shade

Soil type:

No special requirements

Water requirement:

Light damp

Full ground:

No

Tub plant:

Yes

Flowering period:

5-9

Origin / habitat:

Andes Mountains, Peru

Growth rate:

Reasonably fast

Maximum plant height:

100/200 cm