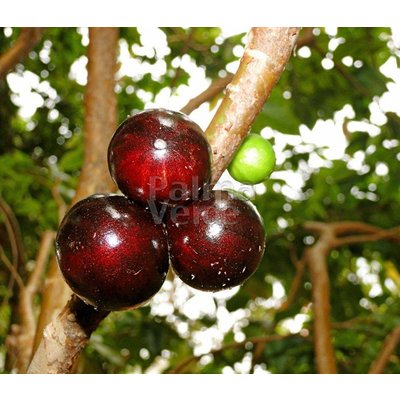 Eetbare tuin-edible garden

:

Myrciaria cauliflora - Jabuticaba - Guapuru - Brazilian grape tree

MYRCAU02
Availability:

In stock

Shipping within:

2 to 4 business days (LIMITED AVAILABLE)
Myrciaria cauliflora or Brazilian grape tree gets very sweet fruits directly on the trunk ...
More information
Product description
Article number:

MYRCAU02

Availability:

In stock

Shipping within:

2 to 4 business days (LIMITED AVAILABLE)
Myrciaria cauliflora or Jabuticaba and Guapuru (Brazilian grape tree) called, occurs in the south-east of Brazil and is a very special fruit-bearing tree.
This slow-growing tree is very special, the young leaf is initially salmon-colored but discolored when it is older to green.
Last year's old leaves will slowly dry out and fall off the plant in the winter in the run-up to the new spring.
The new leaf leaf will then appear in the plant again in the summer.

The flowers are also very special. They are white and have a star shape with fluffy outgrowth.
These grow directly from the stem where the fruits are after flowering. Plants can thrive twice a year and give fruit in tropical regions throughout the year.
Plants can already produce fruit from the age of 4 to 5 years.
The fruits are 3 to 4 cm in diameter are initially green.
Later they will fade to a purple / black color if ripe and sit directly on the trunk. The creamy flesh is white / pink colored, very tasty and sweet.

Imagine the sweetest grape you have ever eaten, which is still sour compared to this exotic fruit!
In Brazil, these fruits are eaten fresh, but also used for making jams, wines and liqueurs.
Fruits do not last very long, so they are best consumed within 1 week after the harvest.
Due to the short shelf life after the harvest, the fruit is very rare in markets outside the areas of cultivation.

A decoction of the fruit is used for treatment of asthma, diarrhea and chronic inflammations of the tonsils.
Because the plants grow very slowly, they are loved by bonsai enthusiasts abroad. It is therefore an ideal container plant.
Should the plant become too large after many years, it can be pruned with impunity.
In the winter, overwintering the plant over freezing is sufficient. The Myrciaria cauliflora can tolerate light frost for a short time.
In winter not to place in a heated living room, the best is to overwinter the plant in a cool room without heating and sufficient light.
Winter hardiness zone 10b (+ 1ºC).
Specifications
Minimum temperature:

+1ºC

Location:

Sunny, half shadow

Soil type:

No special requirements

Water requirement:

Light damp

Full ground:

No

Tub plant:

Yes

Flowering period:

6

Origin / habitat:

South Brazil

Growth rate:

Very slow

Maximum plant height:

5-6 meters