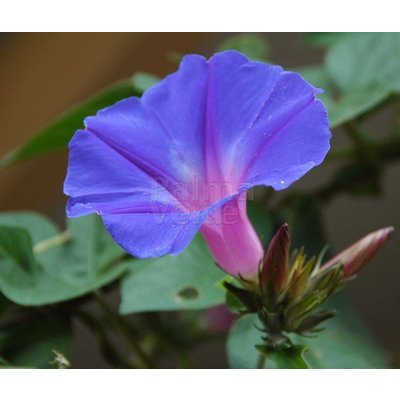 Bloemen-flowers

:

Ipomoea learii

IPOLEA01
Availability:

In stock

Shipping within:

2 to 4 business days
Ipomoea learii flowers very strongly from May to the end of September with deep blue large flowers ...
More information
Product description
Sorts:

Bloemen-flowers

Article number:

IPOLEA01

Availability:

In stock

Shipping within:

2 to 4 business days
Ipomoea learii or blue ornamental bindweed also called the dayflower is a spectacular bloomer that produces amazingly beautiful blue flowers from early spring until late summer.
In warm countries it blooms all year round.
There are shrubs in their natural habitat that produce up to 60,000 flowers in one year (300 per day), this has been observed by L. Bailey (1928) a famous horticulist.

This ornamental bindweed is an ideal tub plant for your terrace or veranda, it is a fast climber and can best be kept in check by cutting it back in time.  
If the plant freezes and the crown is well covered, it will return in the spring.
Overwintering is similar to the Fuchsia. Cut the plant back to 20/30 cm above the ground.
Protect this well with straw and you can leave it in the ground, in any case that the frost can not penetrate the roots of the plant.

If you overwinter it in a tub, keep the soil reasonably dry (give water sparingly) and hibernate at a temperature above freezing.
Again, you can cut back the plant to 30/40 cm above the ground.
In the spring the plant may be given more water and fertilizer. You will be amazed by the lush growth and flowering of Ipomoea learii.
Winter hardiness zone 10 (0ºC).
Specifications
Minimum temperature:

0ºC

Location:

Sunny, half shadow

Soil type:

No special requirements

Water requirement:

Normal

Full ground:

Yes, apply a good layer of mulching over the plant in winter

Tub plant:

Yes

Flowering period:

5-9

Origin / habitat:

South America, Asia

Growth rate:

Fast

Maximum plant height:

3-4 meters (good pruning)