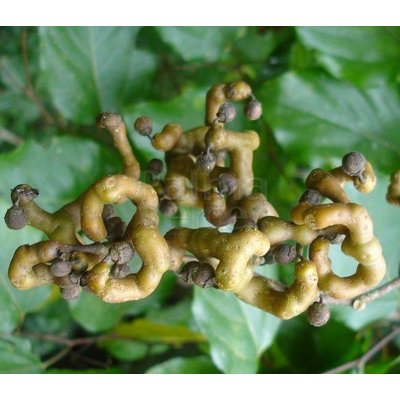 Eetbare tuin-edible garden

:

Hovenia dulcis

HOVDUL02
Availability:

In stock

Shipping within:

2 to 4 business days
Hovenia dulcis gets particularly shaped fruit. These fruits taste very sweet. ...
More information
Product description
Article number:

HOVDUL02

Availability:

In stock

Shipping within:

2 to 4 business days
Hovenia dulcis is a deciduous shrub or small ornamental tree and blooms in June / July.
This fairly rare shrubbery usually remains a small tree around 3 to 4 meters high if you cut the top of the plant at 2 meters height. Without pruning they can be 8-10 meters high.
The Hovenia dulcis is self-pollinating. The cream / white blossom smells nice and is slightly perfumed.
The fruits that grow in a cluster grow from the faded flower stalks. These flower stems grow and are ripe in autumn.

The flower stems look a bit like currants, are very tasty and sweet.
The fruits are about 2 to 3 cm long and red / brown in color.
Fruits can be eaten fresh or preserved.
This fairly special type of fruit is also well resistant and not susceptible to diseases and pests.
The Hovenia dulcis likes to stand in a warm place, which certainly benefits the flowering and fruiting, a place on the south near a wall for example. Do not plant in a wet place, this is badly tolerated.
The leaf is shiny and heart-shaped and has a fairly long leaf stem.

This tree hardly needs to be pruned or a single low-hanging branch. The bark of the plant is gray / brown colored.
The Hovenia dulcis is very hardy and no problem in our climate.
However, young plants can be better protected against moderate frost. If this tree is a few years old, our climate will no longer have a grip on the plant.
This special species originates from areas around the Himalayas where the plant still exists up to 2000 meters.
Winter hardiness zone 7b (-15ºC).
Specifications
Minimum temperature:

-15ºC

Location:

Sunny

Soil type:

No special requirements

Water requirement:

Light damp

Full ground:

Yes, protection against severe frost

Tub plant:

Yes

Flowering period:

6-7

Origin / habitat:

West China, East Asia

Growth rate:

Reasonably slow

Maximum plant height:

3-4 meters