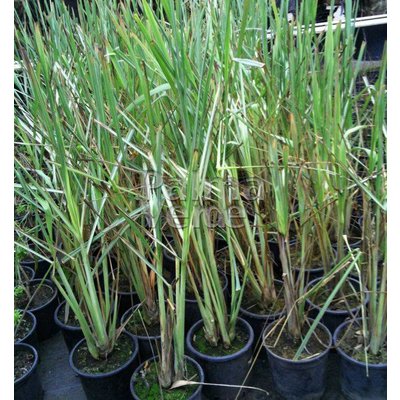 Eetbare tuin-edible garden

:

Cymbopogon citratus - Lemongrass

CYCIT01
Availability:

In stock

Shipping within:

2 to 4 business days
Cymbopogon citratus, lemongrass is widely used in Oriental cuisine for different dishes to taste ...
More information
Product description
Article number:

CYCIT01

Availability:

In stock

Shipping within:

2 to 4 business days
Cymbopogon citratus or sereh is indispensable for lovers of Eastern and Thai cuisine.
This fragrant lemongrass can be used, for tea, in drinks, herbal remedies and oriental soups and meals.
The lower part of the stems is particularly suitable for co-cooking and baking in oriental dishes, etc.
This tropical grass is just as versatile in the garden. It grows in a polular shape up to a diameter of up to 1 meter.

The height can be 180 cm, the leaves are about 2 cm wide and 90 cm long.
The leaves are bright blue / green in color and smell like lemon if the leaf is bruised.
Lemongrass plants in your borders or along a walkway, if you walk past it and touch the leaf gives the plant a lemon scent.
The plant grows on all soil types and likes to have some water in the summer.
He also prefers a sunny place.
The leaves will remain green if the temperature remains above freezing. That is why the plant actually belongs in zone 10.

In a tub you can possibly overwinter the plant indoors in a light place. Also in a garage above the freezing point is sufficient.
The leaves freeze in the ground when there is freezing frost and in spring the pol is released again. If necessary, apply a mulching layer on top of the pol in winter to protect the roots. So you have fresh lemongrass every year in the kitchen.
Winter hardiness zone 8b (-10ºC).
Specifications
Minimum temperature:

-10ºC

Location:

Sunny, light shade

Soil type:

No special requirements

Water requirement:

Light damp

Full ground:

Yes, apply a good layer of mulching over the plant in winter

Tub plant:

Yes

Flowering period:

n/a

Origin / habitat:

Sri Lanka, Tropical Asia

Growth rate:

Normal

Maximum plant height:

120/180 cm