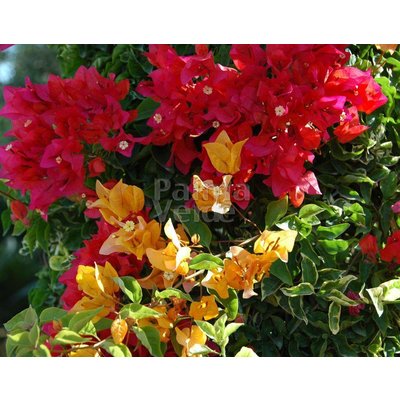 Bloemen-flowers

:

Bougainvillea buttiana Hybrids

BOUBUHY01
Availability:

In stock

Shipping within:

2 to 4 business days
Bougainvillea buttiana Hybrids bloom in the spring and summer. This Mediterranean plant is available in various colors ...
More information
Product description
Sorts:

Bloemen-flowers

Article number:

BOUBUHY01

Availability:

In stock

Shipping within:

2 to 4 business days
Bougainvillea buttiana Hybrids are common in countries around the Mediterranean Sea.
This very powerful bloomer will provide you with a beautiful bouquet of flowers throughout the summer.
Available in bush shape and on stem in various sizes.

Normally the Bougainvillea is purple in color. We can also supply various bougainvillea buttiana "Hybrids" of different colors such as purple, red / purple, orange, yellow, salmon colored and white.
During the summer bloom keep the pot bulb a little bit moist. Every two weeks a little fertilize, after September no more fertilizer.

When the temperatures during the day do not exceed 4 to 5 degrees, then put the Bougainvillea inside (cool).
In winter, when the temperature is above the freezing point in the winter, give little to no water.

From March when the growth starts again give a little bit of water and light fertilization. Only when the flower buds have been laid may more water be given (but sparingly).
Pruning is possible in the autumn, in this way it makes new shoots and buds for the following year and the plant can be kept at the desired height.
Winter hardiness zone 10b (+ 1ºC).
Specifications
Minimum temperature:

+1ºC

Location:

Sunny

Soil type:

No special requirements

Water requirement:

Light damp

Full ground:

No

Tub plant:

Yes

Flowering period:

5-10

Origin / habitat:

Mediterranean, Southern France

Growth rate:

Relatively fast

Maximum plant height:

5 meters