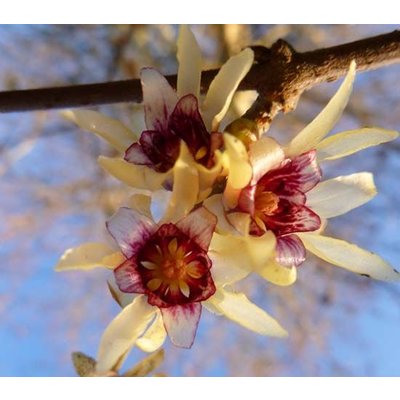 Bloemen-flowers

:

Chimonanthus praecox

CHIPRA01
Availability:

In stock

Shipping within:

3 to 5 business days
Chimonanthus praecox is a deliciously scented early spring blooming schrub ...
More information
Product description
Sorts:

Bloemen-flowers

Article number:

CHIPRA01

Availability:

In stock

Shipping within:

3 to 5 business days
Chimonanthus praecox or winter sweet are also called melon tree or spice tree. This winter-hard, slow-growing shrub is medium sized and is also suitable for the slightly smaller garden.
A sunny to light shady place prefers this schrub.
It is a deciduous shrub, in April it appears after the flowering fresh green leaf. In autumn, this leaf shone to bright yellow.

In January / February, the first buds begin to emerge and yellow beautifully shaped star-shaped flowers with a purple heart appear. The flowers are about 3 cm in size. Especially when the bush is full of flowers it is a spectacular sight in the early spring.

Except that this shrub gives color to your garden in the early spring, the flowers are absolutely delicious.
These smells to lemon and with a flatter of sweet violets sent. The bloom lasts until the end of April.
The total height of the bush is between 200 and 300 cm and can be pruned immediately after flowering. However, pruning is actually superfluous with this very slowly growing schrub and is also not recommended.
This graceful schrub has no trouble with our winters.
Winter hardness zone 6a (-20ºC).
Specifications
Minimum temperature:

-20ºC

Location:

Sunny, light shade

Soil type:

No special requirements

Water requirement:

Light damp

Full ground:

Yes

Tub plant:

Yes

Flowering period:

1-4

Origin / habitat:

China

Growth rate:

Very slow

Maximum plant height:

200/300 cm