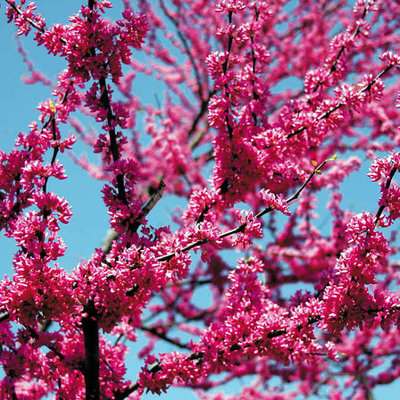 Bloemen-flowers

:

Cercis canadensis - American Redbud tree

CERCAN01
Availability:

In stock

Shipping within:

3 to 5 business days
Cercis canadensis or American Redbud tree, this special species gets pink flowers on the bare wood in the spring and flowers very exuberantly ...
More information
Product description
Sorts:

Bloemen-flowers

Article number:

CERCAN01

Availability:

In stock

Shipping within:

3 to 5 business days
Cercis canadensis is also called the American Redbud tree.
This is originally from the middle and east of America.
The name Redbud tree or Judastree has to do with Judas, who would have betrayed Jesus and hung himself in this tree out of despair.

This beautiful beautiful tree has a very special inflorescence on the bare biennial wood.
Flowering starts mid-April to May and the pink flowers grow very rich in clusters on the branches and stem. Up to 8 cm appear after flowering. long red / brown pods.
After flowering is over, the fresh green kidney-shaped leaves appear at the end of May.
The leaves discolor at the end of August and fall off the plant. The tree will now start creating the flower buds for early spring.

Ultimately, the tree can reach a height of 10-12 meters and grows fairly slowly (a height of around 5 meters after 10 years). Can be easily cut smaller and more compact.
The plant likes to have water on time and gives more flowers the next year if a good previous summer.
Pruning is best done in the summer and then remove the branches that grow too close together.
Winter hardiness zone 4 (-30ºC).
Specifications
Minimum temperature:

-30ºC

Location:

Sunny, half shadow

Soil type:

No special requirements

Water requirement:

Light damp

Full ground:

Yes

Tub plant:

No

Flowering period:

4-5

Origin / habitat:

Middle- and East America

Growth rate:

Reasonably slow

Maximum plant height:

10-12 meters (normally 6-8 meters)