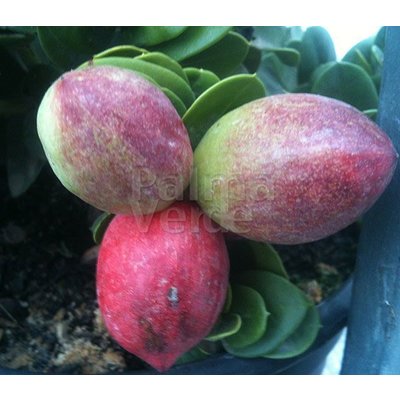 Eetbare tuin-edible garden

:

Carissa grandiflora - Natalplum

CARGRA01
Availability:

In stock

Shipping within:

3 to 5 business days
Carissa grandiflora or Natalplum is an evergreen plant, blooms with white fragrant flowers and gets delicious fruit ...
More information
Product description
Article number:

CARGRA01

Availability:

In stock

Shipping within:

3 to 5 business days
Carissa grandiflora is also known under the name Natal plum a truly delicious fruit! The plant grows more than 5 meters high in its origin.
This evergreen slow-growing wet bulb is a very suitable tub plant and can easily be pruned.
The leaves are thick shiny and dark green in color.
The Natal plum is drought tolerant, for the care is moderate watering and three times a year some fertilization (Fertilizzante Mediterraneo) give sufficient.

In the countries of origin, the Carissa grandiflora is also used in hedges because it is impenetrable due to its thorns.
If the Carissa grandiflora is in a warm place she will continue to treat you to white flowers that are very similar in size (2 cm) and the wonderful smell with the scent of Jasmine.

During flowering, the natal plum produces fruits that are green in color in the beginning. When ripe, the fruits have a diameter of about 4-5 cm and are red in color. Fertilization of fruits and the flowering of the lovely blossom go simultaneously throughout the summer.
The taste resembles a mix of cranberries and whole sweet plum and can be eaten. However, the fruit is also used in sauces, jelly and ice cream. The flesh looks like a red colored pulp.

We only sell plants of selected varieties of good quality and large fruits.
The Carissa grandiflora is also a very popular plant among bonsai lovers, partly because of its slow growth and of course for its flowering and special fruits.
The natal plum also tolerates heavy pruning without problems.
The Carissa grandiflora tolerates light frost, when it is severely damaged by the frost, it makes new shoots from the ground in the spring. Up to zone 9 the plant can be kept in the open ground. However, our advice is zone 10b, simply keep it as a container plant and overwinter frost-free.
Winter hardiness zone 10b (+ 2ºC).
Specifications
Minimum temperature:

+2ºC

Location:

Sunny, half shadow

Soil type:

No special requirements

Water requirement:

Light damp

Full ground:

No

Tub plant:

Yes

Flowering period:

6-9

Origin / habitat:

South Africa, California

Growth rate:

Reasonably slow

Maximum plant height:

150/200 cm (good pruning)