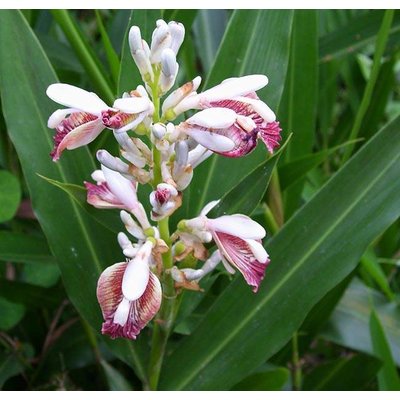 Eetbare tuin-edible garden

:

Alpinia Galanga - Laos

ALPGAL01
Availability:

In stock

Shipping within:

3 to 5 business days
Alpinia Galanga or Laos is a beautiful leaf plant, blooming in summer with beautiful flowers. Carrot is used in oriental cuisine. ...
More information
Product description
Article number:

ALPGAL01

Availability:

In stock

Shipping within:

3 to 5 business days
Alpinia Galanga or Languas Galanga better known as Laos. This is a solid plant from the tropics related to the ginger.
Also called Thai ginger, Thai galangal or Romdeng. Laos is native to Indonesia, but is also widely used in Malaysia, Cambodia and Thailand.

The root of the plant is used as spice and has some flavor away from ginger. However, Laos tastes mild and sweeter than ginger.
It has a slightly sharp flavor whose aroma goes to pepper. Laos smells lightly spicy and a little bit citrus and is indispensable in the Oriental cuisine to taste meals.

The plant can grow to 150/200 cm high and has elongated green leaves.
In summer, the Alpinia Galanga gets clusters at the ends of the stems with special white flowers that are purple striped on the inside.
These flowers have some resemblance to the orchid.
The Alpinia galanga likes to be in full sun to half shade and the well-permeable soil may be slightly moist.

The plant is expanded by rootrhizomes. This delicious fresh root / tuber is used in the kitchen.
We prefer to keep the plants in a jar, wintering in a cool place is sufficient so that the turmeric comes in wintertime.
The foliage disappears from October / November and only the tuber remains, it will spring again in the spring around the end of May when the weather starts to get hotter.
We deliver this plant in a pot but do not have any praise from the end of October to the end of May.
Winter hardness zone 11 (+ 4ºC).
Specifications
Minimum temperature:

+4ºC

Location:

Sunny, half shadow

Soil type:

No special requirements, well permeable

Water requirement:

Light damp

Full ground:

No

Tub plant:

Yes

Flowering period:

8-9

Origin / habitat:

Indonesia, East Asia

Growth rate:

Normal

Maximum plant height:

150/200 cm