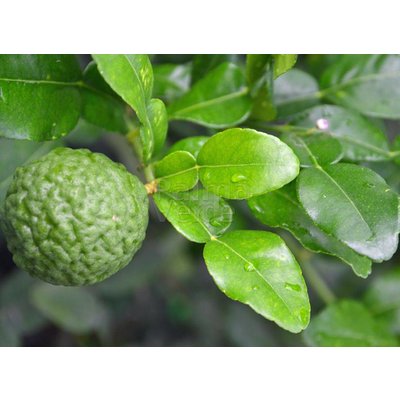 Eetbare tuin-edible garden

:

Citrus hystrix - Djeroek poeroet - Kaffirlime

CITHYS02
Availability:

In stock

Shipping within:

3 to 5 business days
Citrus hystrix or Kaffir lime also known under the names Djeroek poeroet and Djeruk purut is great to use in Indian cuisine ...
More information
Product description
Article number:

CITHYS02

Availability:

In stock

Shipping within:

3 to 5 business days
Citrus hystrix or Kaffirlime can be on the terrace from mid-May to early October. It smells delicious and itself the leaf gives a fresh sweet smell in the summer months.
The fruits are deliciously fresh and taste comparable to lemon.

However, in the Thai and other Asian kitchens, for example, the Citrus hystrix leaf is also used extensively in meals, also known as Djeroek poeroet or Djeruk purut.
Fold the leaf double, pull the leaf grain out of the leaf. Now roll the sheet tightly and cut it into thin strips.
Now it is ready for use.

Is easy to maintain, from April to September a manure gift (every 4 weeks) and water requirements in the summer is moderate (certainly not too wet, but do not let it dry out).
The Citrus hystrix is recommended to overwinter at a minimum temperature above freezing. During the wintering give little water if it is cool (once a month).
From mid-May to the outside where he still has a few days in the shade / half shade to get used to the sunlight.
After this, the citrus may be in full sun again.
Winter hardiness zone 11 (+ 2ºC).
Specifications
Minimum temperature:

+2ºC

Location:

Sunny, light shade

Soil type:

No special requirements

Water requirement:

Light damp

Full ground:

No

Tub plant:

Yes

Flowering period:

5-9

Origin / habitat:

South-East Asia, India, Mediterranean

Growth rate:

Normal

Maximum plant height:

200 cm