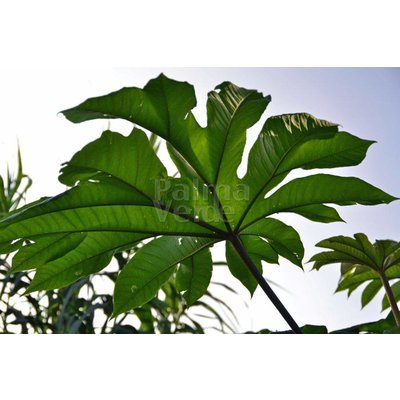 Blad-leaf

:

Tetrapanax papyrifera Steroidal Giant - Rice paper plant - Rice paper tree

TETPAST01
Availability:

In stock

Shipping within:

2 to 4 business days
Tetrapanax papyrifera Steroidal Giant also known as rice paper plant or rice paper tree. Get great beautiful and large leaves ...
More information
Product description
Sorts:

Blad-leaf

Article number:

TETPAST01

Availability:

In stock

Shipping within:

2 to 4 business days
Tetrapanax papyrifera Steroidal Giant is family of the Araliaceae (Ginseng family), also known as rice paper plant or rice paper tree. This well frost-resistant foliage plant has an exotic appearance and is an ideal plant for the tropical garden.
This fast growing plant gets large leaves that do get a diameter of more than 1 meter.
Originally the plant comes from China and Taiwan. There the stem is used for the production of rice paper.

The Tetrapanax papyrifera is best planted as a solitary plant, it needs a lot of space.
Furthermore, the plant proliferates underground causing new shoots and smaller vegetation under the plant does not get a chance to develop. However, a root limiter is not necessary. Shoots that are too many can be chipped.
The plant may receive a small amount of organic fertilizer in the spring and summer every month.

The rice paper plant initially grows as a shrub, but in the winter it loses its leaves leaving bare stems of 1 to 2 meters in length (similar to a tree and slightly covered). Plants we supply in winter and early spring have no leaves, the leaves reappear in spring when it gets warmer. 
This plant is not always available and is therefore a unique eye-catcher in your exotic garden. No special measures need to be taken for the Steroidal Giant, which is the most hardy Tetrapanax papyrifera of its kind.
In case of prolonged and severe frost, the plant freezes completely, but returns in the spring.
Winter hardiness zone 6b (-20ºC).
Specifications
Minimum temperature:

-20ºC

Location:

Sunny, half shade, shadow

Soil type:

No special requirements

Water requirement:

Normal

Full ground:

Yes

Tub plant:

Yes

Flowering period:

n/a

Origin / habitat:

China, Taiwan

Growth rate:

Fast

Maximum plant height:

2-4 meters