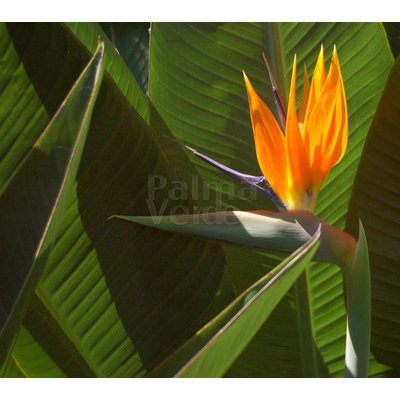 Bloemen-flowers

:

Strelitzia reginae - Bird of paradise

STRREG01
Availability:

In stock

Shipping within:

2 to 4 business days
Strelitzia reginae or bird of paradise has beautiful orange-blue flowers with beautiful leaves and is evergreen ...
More information
Product description
Sorts:

Bloemen-flowers

Article number:

STRREG01

Availability:

In stock

Shipping within:

2 to 4 business days
Strelitzia reginae is maximally about 175 cm high and 1 meter wide.
The same care as other Strelitzias is used for the bird of paradise flower and is just as easy to keep.
The flowers appear in early spring, they are bright orange / blue in color and are about 20 cm tall.
The Strelitzia reginae is about 150 cm high in a tub.

From May to September the Strelitzia reginae may have a small amount of fertilizer every 2 weeks.
Further provide reasonable water in the summer.
The plant is not frost-resistant temp. + 2ºC, and a single light night frost is no problem.
Our advice is to leave the plant in a cool place over freezing during winter and not too dark. Give little water in the winter because of root rot.
Strelitzias like to be well rooted in a tub, so repot the plant only when it grows completely out of the tub.
Winter hardness zone 10b (+ 2ºC).
Specifications
Minimum temperature:

+2ºC

Location:

Sunny, half shadow

Soil type:

No special requirements

Water requirement:

Light damp

Full ground:

No

Tub plant:

Yes

Flowering period:

3-6

Origin / habitat:

South Africa, Mediterranean

Growth rate:

Normal

Maximum plant height:

150/175 cm