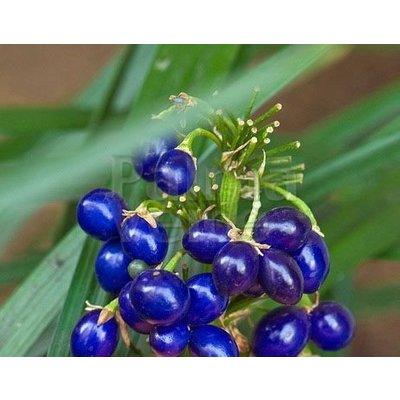 Siergrassen-ornamental grasses

:

Ophiopogon japonicus Minor

OPHJAMI01
Availability:

In stock

Shipping within:

2 to 4 business days
Ophiopogon japonicus Minor is wintergreen and will have lilac flowers. Blue berries appear after flowering ...
More information
Product description
Article number:

OPHJAMI01

Availability:

In stock

Shipping within:

2 to 4 business days
Ophiopogon japonicus Minor belongs to the family of the Convallariaceae / Liliaceae.
This perennial is evergreen and does not grow much higher than 15-20 cm.

The flowering period is from August to October and then the white / lilac flowers appear. Ophiopogon japonicus Minor grows in a polical shape and gets new offshoots in the spring.
The soil type is not very important for this ornamental grass, preferably permeable and a place in the full sun or half shade is well tolerated.
This perennial plant can very well be used as planting or for undergrowth.
The Ophiopogon japonicus Minor is also fairly drought tolerant.

After the flowering is over, blue berries appear that give a nice contrast to the fresh green leaves.
Even in the winter the leaves remain beautiful of the Slange Beard.
The fine green leaves form a dense green blanket after a few years if you use this grass as planting.
If you use the Ophiopogon japonicus Minor for planting or sub-planting, you must use 10-12 plants per m².
Ophiopogon japonicus Minor is hardy and has no problems with our winters.
Winter hardiness zone 6b (-20ºC).
Specifications
Minimum temperature:

-20ºC

Location:

Sunny, half shadow

Soil type:

No special requirements

Water requirement:

Light damp

Full ground:

Yes

Tub plant:

Yes

Flowering period:

8-9

Origin / habitat:

Korea, Japan

Growth rate:

Normal

Maximum plant height:

15/20 cm