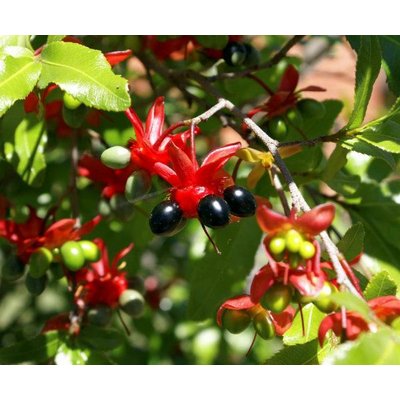 Bloemen-flowers

:

Ochna serrulata - Mickey Mouse shrub

OCHSER01
Availability:

In stock

Shipping within:

2 to 4 business days
Ochna serrulata is also known as Mickey Mouse shrub is a very special and fragrant flowering plant ...
More information
Product description
Sorts:

Bloemen-flowers

Article number:

OCHSER01

Availability:

In stock

Shipping within:

2 to 4 business days
Ochna serrulata is also referred to as Mickey Mouse shrub. This particular flowering subtropical exotic perennial grows bush-shaped and should not be missing in the collection of every self-respecting container plant collector.
The glossy leaves are fresh green and elongated, the young leaves in spring are bronze / pink in color.
The scented flowers, up to 2 cm in size, appear in the spring. They are striking flowers that are initially colored yellow with 5 large petals and an orange heart / stamens.
After flowering in summer there is a change from a yellow to a bright red color. At the heart of the flower are initially green and later in the summer black shiny berry-like fruits, these resemble the face of Mickey Mouse.
The potting soil may preferably be moist in the growing season and be lightly fertilized during the months of May and July.
Any pruning can be done immediately after flowering, this keeps the plant nicely compact and dense.
The plants grow up to 100/150 cm high without pruning. The bark of older plants is very nice and gets white and brown spots on the trunk.
A place half shadow or sunny is fine for the Ochna serrulata.
The Ochna serrulata is not hardy and can best be overwintered at a temperature above freezing.
Winter hardiness zone 10 (+ 1ºC).
Specifications
Minimum temperature:

1ºC

Location:

Sunny, half shadow

Soil type:

No special requirements

Water requirement:

Slightly damp

Full ground:

No

Tub plant:

Yes

Flowering period:

5-9

Origin / habitat:

South Africa

Growth rate:

Slow

Maximum plant height:

100/150 cm (good pruning)