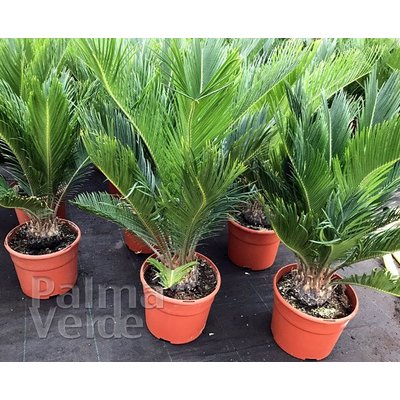 Palmbomen-palms

:

Cycas revoluta

CYCREV01
Availability:

In stock

Shipping within:

3 to 5 business days
The Cycas revoluta is a palm fern grows very slowly and is a very easy container plant ...
More information
Product description
Sorts:

Palmbomen-palms

Article number:

CYCREV01

Availability:

In stock

Shipping within:

3 to 5 business days
The Cycas revoluta is a palm fern also grows very well in our climate, despite its very slow growth.
In Africa the inner part of the stem is eaten, Sagomeel is extracted via a certain procedure, because the Sagomeel (starch) that comes from the stem is not edible and poisonous.

The maximum height that a Cycas revoluta can reach is 3 meters and this takes a very long time. You will probably survive this palm-frond and will be more than 100 years old.
The leaves are feathered and hard, they can be 25 cm long and the petioles 1.50 meters. Young Cycas revoluta plants should be in half shade, older plants can stand in the sun.
Cut the dead petioles at 2 cm from the trunk and only when they are mostly brown discolored.

He can stand on a terrace from mid-May to October and afterwards he should spend the winter in a cool place in a cool place despite his reasonable winter hardiness.
The Cycas revoluta can also be brought indoors indoors in the winter.

Within winter, as a precaution, the roots of the plant will freeze to death. If the Cycas revoluta is now in a large container, the chance of freezing the roots is nil and certainly not if the container is wrapped with insulation foil (available in the webshop).

I have seen Cycas revolutas in the ground, but one must use well-drained soil and in a sheltered spot.
In the wild, cycas can reach up to -10ºC at fairly low temperatures. However, in those climates there are drier winters than with us. Advice, therefore, keep as a tub plant and overwinter in a frost-free area.

In a large cockpit, for example, in an unheated garage or under a winter shelter.
The full ground of the palm should not be soaked and prolonged exposure to wet soil does not survive the roots.
If in the ground then in the winter when heating and the plant pack with climate cloth. The soil should therefore be well drained and slightly damp (just do not let it dry out). It is a very easy plant to keep and also works indoors or in the office.
Winter hardiness zone 9a (-5ºC).
Specifications
Minimum temperature:

-5ºC

Location:

Sunny, half shadow

Soil type:

No special requirements

Water requirement:

Light damp

Full ground:

No

Tub plant:

Yes

Flowering period:

n/a

Origin / habitat:

South-East Asia

Growth rate:

Very slow

Maximum plant height:

300 cm