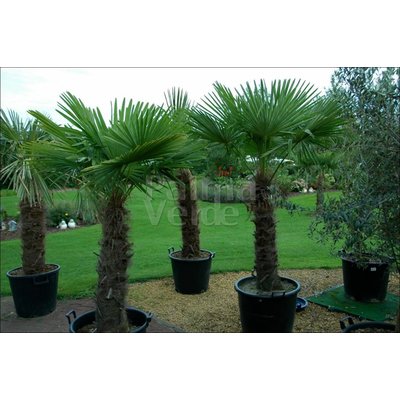 Palmbomen-palms

:

Trachycarpus fortunei - Chinese windmill palm

TRAFOR01*
Availability:

In stock

Shipping within:

3 to 5 business days
The Trachycarpus fortunei called the Chinese windmill palm. This palm tree is very hardy ...
More information
Product description
Sorts:

Palmbomen-palms

Article number:

TRAFOR01*

Availability:

In stock

Shipping within:

3 to 5 business days
Trachycarpus Fortunei is a popular palm tree and owes its name "Fortunei" to a Scottish horticulturist. This was a discovery traveler and collector named Robert Fortune, who established the tea plantation industry in India and Sri Lanka in that century.

The Trachycarpus fortunei is also called the Chinese windmill palm or Hemp palm. The first name because of its large windmill shaped leaves. Hemp palm because the trunk is fully occupied with brown fibers and for the bird lovers, in this the male wren sometimes wants to build his nest for his madam.

Typically the hairs are on the trunk of the Trachycarpus fortunei. This species can grow between 10 and 20 cm stem length per year. In the summer there are inflorescences in the palm that are yellow in the beginning. After they have been fertilized they can grow into seed bunches with thousands of seeds.

These palms make no further demands on the ground and do fine in all places. This type of palm is the most common palm tree that has been on the rise in the Dutch gardens in recent years.
Of this species we constantly have more than 300 pieces in stock which are fully rooted and immediately catch up when they are planted in the ground.

This fan palm is hardy and one of the hardest of its kind. It can withstand temperatures from far below freezing point with ease and does not have to be protected at the first night frost. The Trachycarpus fortunei is easy to maintain and can also be kept well in a tub and does not need to enter in the winter.
Provided it is not a small bowl, otherwise it may be wrapped with bubble wrap so that the roots do not freeze.
Winter hardiness zone 7a (-15ºC).
Specifications
Minimum temperature:

-15/-17ºC

Location:

Sunny, half shadow

Soil type:

No special requirements

Water requirement:

Light damp

Full ground:

Yes

Tub plant:

Yes

Flowering period:

n/a

Origin / habitat:

Central China, East Asia

Growth rate:

Normal

Maximum plant height:

12 meters