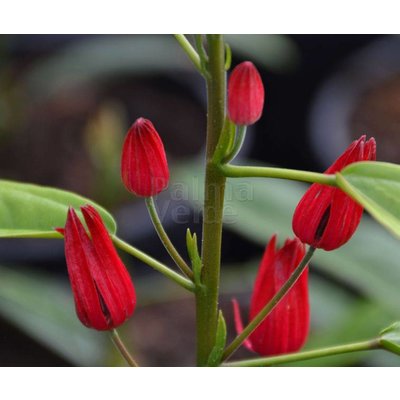 Bloemen-flowers

:

Pavonia multiflora

PAVMUL01
Availability:

In stock

Shipping within:

2 to 4 business days
Pavonia multiflora the perfect tub plant flowers almost all year round with bright red exotic-looking flowers ...
More information
Product description
Sorts:

Bloemen-flowers

Article number:

PAVMUL01

Availability:

In stock

Shipping within:

2 to 4 business days
Pavonia multiflora also known as Triplochlamys multiflora is a great chicken plant originally derived from Brazil. The Pavonia belongs to the Malvaceae family.
If you are looking for a cultivated plant that blooms almost all year long, the Pavonia multiflora is a good choice.
In addition to being able to stand on the terrace in summer, this plant is also good at indoor indoors in winter.

The bloom usually begins in April and continues until November. If the plant is overwhelming at a temperature of + 12ºC then it will bloom, though it is no longer so powerful.
However, since spring, bloom intensity increases with bright red flowers with bright red elongated petals that initially grow in a columnar form.
The petals open in the shape of a star. The flowers grow from the leaf spoons.

The elongated leaf is fresh green in color and is between 10-15 cm long. The plant grows up and bush and can grow up to 200 cm without pruning.
However, pruning is not a problem at the Pavonia.
This cultivated plant is best in a place with light shade and not in the full afternoon sun.
Feed the plant way 1x every two weeks and keep the potting soil moist. The higher the humidity, the more the plant it has, you can spray the plant occasionally.
Overwinter at a minimum temperature of + 10ºC.
Winter hardness zone 11 (+ 10ºC).
Specifications
Minimum temperature:

+10ºC

Location:

Light shade, semi-shadow, shadow

Soil type:

No special requirements

Water requirement:

Light damp

Full ground:

No

Tub plant:

Yes

Flowering period:

1-12, flowering up to 12 months

Origin / habitat:

Brazil

Growth rate:

Reasonably slow

Maximum plant height:

150/200 cm (good pruning)