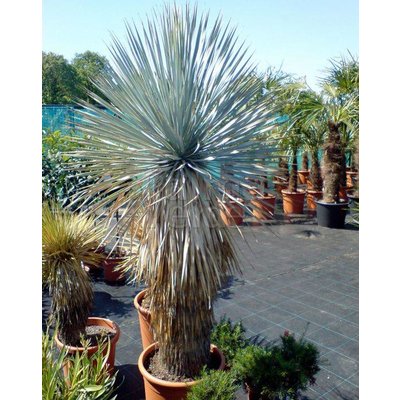 Woestijn-desert

:

Yucca rostrata

YUCROS01
Availability:

In stock

Shipping within:

3 to 5 business days
Yucca rostrata is a hardy yucca with beautiful blue / silver leaves, has an exotic added value for the garden ...
More information
Product description
Sorts:

Woestijn-desert

Article number:

YUCROS01

Availability:

In stock

Shipping within:

3 to 5 business days
Yucca rostrata stands for beak-like, this is the leaf. This Yucca rostrata is hardy and a real eye-catcher in your garden.
This yucca species does not grow much larger than 4 meters.
In the old age the plant gets multiple strains. It has narrow stiff leaves that can reach a length of 50 cm.
The leaf color is gray in color. Plant the plant preserving its leaf in the winter.

On the trunk the older leaves hang down with the point as if it were a beige skirt.
It is an absolute eye-catcher in the garden and almost indispensable in a garden with an exotic appearance.
Trimmed and untrimmed Yucca rostrata specimens available, of which you can trim the trunk as you like.
In the late spring and early summer the Yucca rostrata surprises you with flowering clusters of 60 cm length that are white in color.

The plant is ideal for planting in the open ground.
However, it is also a good container plant that places few demands on the soil type. This may even be sandy, as long as it is well drained.
The yucca likes to keep his feet dry, so do not plant him in too wet a place. This species can also tolerate dry air.
A place in the full sun is ideal, but the Yucca rostrata does well in half shadow too. Also in the summer a little fertilization every month and watering in moderation.
It is not a problem to plant a tub plant in the winter (protect the tub from freezing). Do not fertilize in the winter and give almost no water, rather too dry than too wet.
Winter hardiness zone 7a (-18ºC).
Specifications
Minimum temperature:

-18/-20ºC

Location:

Sunny, light shade

Soil type:

No special requirements, well permeable

Water requirement:

Slightly moist, drought tolerant

Full ground:

Yes, keep the top side dry

Tub plant:

Yes

Flowering period:

Sometimes around June/July

Origin / habitat:

North Mexico, South West Texas

Growth rate:

Slow

Maximum plant height:

3-4 meters