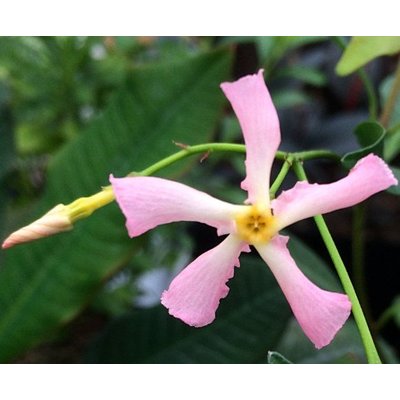 Bloemen-flowers

:

Trachelospermum Star of Sicily - Pink star jasmine

TRASTSI01
Availability:

In stock

Shipping within:

3 to 5 business days
Trachelospermum Star of Sicily or Pink Star Jasmine is a climbing plant and has fragrant pink flowers ...
More information
Product description
Sorts:

Bloemen-flowers

Article number:

TRASTSI01

Availability:

In stock

Shipping within:

3 to 5 business days
Trachelospermum Star or Sicily or pink star jasmine, is very suitable for our climate Trachelospermum species.
This climbing plant has oval leaves that are 2.5 cm long, dark green glossy leaves, in the winter green.
He can reach a height of 6 meters and become as wide as heights. Will not everyone have in mind with this beautiful climber, pruning is also allowed, this is possible in the early spring.
However, due to the fairly slow growth, pruning will certainly not be a regular recurring job.
However, the climber can also be used as a ground cover in a sunny location.
If the branches get damaged then they secrete a white milky substance.

The delicious fresh-sweet fragrant flowers are soft pink to white in color.
The exuberant flowering period is from the beginning of June to the end of September. The flowers are tubular wide flared at the end.
This pink star jasmine is a special addition to the already existing colors of the available starjas mines.
If a long, warm summer is present, fruit will appear in the form of 20 cm long pods (not edible) after flowering.
This species can be planted in the ground, but can also be kept in a tub on a balcony.
In the winter, be cautious with watering. And from the spring a small amount of manure can be given every month until September.
Winter hardiness zone 8a (-12ºC).
Specifications
Minimum temperature:

-12ºC

Location:

Sunny, half shadow

Soil type:

No special requirements

Water requirement:

Light damp

Full ground:

Yes, protection in case of severe frost

Tub plant:

Yes

Flowering period:

6-9

Origin / habitat:

Netherlands, Mediterranean

Growth rate:

Normal

Maximum plant height:

2-3 meters