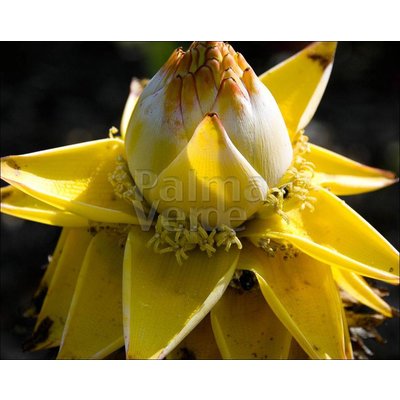 Bananen-bananas

:

Musella lasiocarpa - Chinese lotus banana

MUSLAS01
Availability:

In stock

Shipping within:

3 to 5 business days
Musella lasiocarpa is a banana plant that stays reasonably small and blooms fantastically. Flowering time per flower bud up to 12 months ...
More information
Product description
Sorts:

Bananen-bananas

Article number:

MUSLAS01

Availability:

In stock

Shipping within:

3 to 5 business days
The Musella lasiocarpa or Chinese lotus banana is a shiny banana plant and remains reasonably small.
Requests water and fertilization in time during the summer months from April to September, which will benefit growth and possible flowering.
In the winter little water and hibernate at a temperature of + 5ºC or warmer is ideal, the Musella Lasiocarpa (also called holy Lotus) moderately hardy.
It occurs in its natural habitat in the mountains of Yunnan (Tibet) to an altitude of 2500 meters. However, the combination of a wet and severe winter can be fatal.

If this banana is allowed to overwinter outdoors, properly cover the soil around the banana with a layer of mulch (such as tree bark for example) so that the frost does not affect the roots.
The trunk will completely freeze in a severe winter. If the trunk freezes, the banana has to start again from scratch and will not make a flower in the coming year.
However, this can be prevented by packing only the trunk with a reed mat or straw and climate cloth (possibly with heating in the form of light cord).
Before folding or removing the leaves. Now the tribe will survive the winter well and will continue to grow from the stem from the spring.

Otherwise, be sure and keep the Musella lasiocarpa as a tub plant. He certainly does not need a big cockpit and even likes to sit in a small pot. Let him overwinter above freezing. Now the chances are great that you will witness the beautiful inflorescence of the Lasiocarpa (depending on the age of the banana plant).
Namely after 3 years there is a thick flower stalk from the trunk on which a huge yellow flower bud has a diameter of more than 20 cm.

This flowers for 5 to 12 months and spreads a wonderful fragrance.
Butterflies love this flower which is full of delicious nectar. This banana variety gives an extra exotic look to your garden and will amaze many visitors.
Overwintering than at a temperature of + 5ºC is ideal and that is what we prefer. When shipping the bananas in a package, it is possible that we are cutting back the sheet of bananas. These grow back very quickly. 
Winter hardiness zone 8b (-8ºC).
Specifications
Minimum temperature:

-8ºC

Location:

Sunny, half shadow

Soil type:

No special requirements

Water requirement:

Light damp

Full ground:

No

Tub plant:

Yes

Flowering period:

1-12, flowering up to 12 months

Origin / habitat:

Yunnan, Tibet, China

Growth rate:

Reasonably fast

Maximum plant height:

150 cm