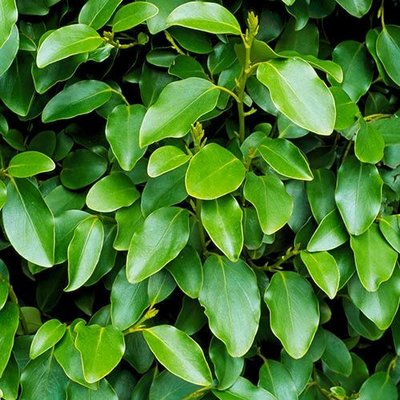 Blad-leaf

:

Griselinia littoralis

GRILIT01
Availability:

In stock

Shipping within:

2 to 4 business days
Griselinia littoralis is a beautiful winter green mediterranean leaf plant for molding ...
More information
Product description
Sorts:

Blad-leaf

Article number:

GRILIT01

Availability:

In stock

Shipping within:

2 to 4 business days
Griselinia littoralis is a winter green leaf plant. This dense growing plant is common in countries around the Mediterranean. The Griselinia littoralis has a fresh green glossy leaf and is widely used as a hedge plant or as a plant for shielding or creating privacy.

In addition to this, the plant is a welcome and easy kuiplant for your terrace. The very dense growth of the Griselinia and the beautiful leaf make this plant a beautiful appearance on the terrace.
The plant grows about 25 cm a year and can be cut well in any shape.
The flowering period is in the summer and the plant is flourishing with yellow / green flower clusters that grow later in the season in blackberries.

From May to September, the plant can receive a small gift of crustacean every 3 weeks.
The water supply is moderate, keeping the moisture moist, keeping it well. However, a short period of drought does not affect the plant either. A sunny place to half shake is ideal.
The Griselinia littoralis can withstand light frost, but rather frost froze.
Winter hardness zone 9b (-3ºC).
Specifications
Minimum temperature:

-3ºC

Location:

Sunny, half shadow

Soil type:

No special requirements

Water requirement:

Normal

Full ground:

Yes, protection against moderate frost

Tub plant:

Yes

Flowering period:

6-7

Origin / habitat:

Mediterranean, Canaries, Canary Islands, Azores

Growth rate:

Normal

Maximum plant height:

200 cm without pruning